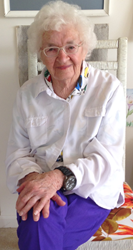 Looking back at her life, Ginny said, 'I just think I'm very fortunate. I have a wonderful family, good experiences in life, and good friends I've made along the way.'
(PRWEB) August 13, 2014
Crediting her longevity to good genes, a positive attitude and a busy life, Virginia (Ginny) Geis was very excited to celebrate her birthday with family and friends. It was definitely an auspicious occasion. Although she appears to be decades younger, Ginny turned 99 on August 3rd, making her the most senior resident at Monarch Landing.
Ginny lived in her home in Naperville until about five years ago and was frequently an invited guest at Monarch Landing marketing events. "I'd come over and they'd give me free lunch," she said. For a long while she didn't really consider moving in, but enjoyed being wooed and fed. When she learned that some women she knew from Naperville had moved in and were loving it, she reconsidered. "I thought if it was good enough for them and they loved it, it was good enough for me," she said. Ginny's been delighted with her decision ever since.
Although having some vision problems, Ginny is extremely independent and in excellent health. She's also busy. "I play card games and when there are special programs, I attend. There's a big fitness program that I'm involved with, and I'm a swimmer," she said. If she's not otherwise involved, Ginny's likely to have some sort of puzzle in her hands.
The walls of Ginny's bright and sunshine filled apartment are covered with colorful artwork. Years ago, Ginny took art classes at College of DuPage. "Our instructor said 'never throw your artwork away. You may be famous some day,'' she recalled. "So I kept putting all of my work under my bed. When I moved here I decided not to throw it away. When I got here I thought, 'now what am I going to do with this?' I decided to hang it on my walls."
Citing what she loves best about living at Monarch Landing, Ginny said, "All of the people are so friendly. The residents and the staff; everybody. And the food is excellent."
Ginny has four children, 14 grandchildren and a lot of great-grandchildren. "There was family from all over the country to celebrate my birthday at an area country club. Someone came from Washington State, and several came from the east coast," she said. "There were probably 75 people there. It was a pretty big deal."
Looking back at her life, Ginny said, "I just think I'm very fortunate. I have a wonderful family, good experiences in life, and good friends I've made along the way."
Monarch Landing is a continuing care retirement community located on a scenic campus in Naperville, Illinois-named "one of America's best places to live and retire" by Modern Maturity, and "the best city for early retirement" by Kiplinger. Monarch Landing currently offers independent living, promoting a vibrant life style for active seniors. Upon completion of The Springs at Monarch Landing which is currently under construction, the community will also offer assisted living memory support, rehabilitation and skilled nursing services, thus providing complete continuing care for seniors. Monarch Landing is owned by Senior Care Development and managed by Life Care Services. For additional information, visit http://www.WelcomeToMonarchLanding.com or call 630-548-0400.