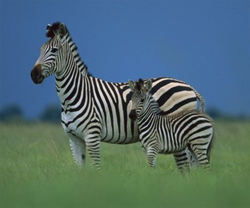 (PRWEB) August 17, 2014
The new website ZebraFacts.net publishes with an aim of informing the public about zebras, a horse-like creature that is most known for its black-and-white stripe patterns. The site has several pages dedicated to the different aspects of a zebra's life, such as its diet, habitat, and general characteristics. Each section is full of accurate facts. The website not only has lots of facts but presents them in a journalistic fashion that is interesting to read.
On the website, zebra enthusiasts can hope to learn about the different main species of zebras, about how zebras are able to survive despite having a stripe pattern that makes them so easy to see out in the wilderness, and other interesting facts. Did you know that zebras sleep standing and only with friendly zebras around?
In addition to zebra facts the website includes discussions of interesting topics such as whether zebra are horses or if they can be mounted and ridden like horses.
When asked why he decided to make a website like Zebra Facts, the website creator had this to say: "We wanted to help spread word about these fantastic and regal animals. Zebras are perhaps one of the most unique animals on our planet. I find them absolutely fascinating. While they are not endangered yet, I feel that if we are not careful we can easily reduce them to endangered levels. Two of the three main zebra species, the Grevy's zebras and the mountain zebras, might already be endangered. Human agriculture and hunting have already led to a major decline. We hope that if we bring more attention to zebras we can prevent such a misfortune from becoming a likely reality."
The creator also elaborated on his admiration of all animals: "I love animals. They are wonderful creatures. Mother Nature is so kind and without limits… our planet is full of animals of all kinds you can imagine. Beautiful, majestic, dangerous, vicious. I believe there has to be a circle of life. But humans are destroying that. We must become self-aware." The creator has also had success with other animal web sites such as wolves and pandas.
Despite having been relatively new, Zebra Facts hopes to become a top online resource in the future.