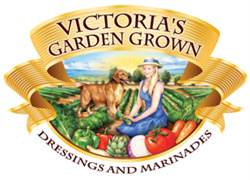 "At just 15 to 20 calories and as little as 65 mg of sodium, my dressings have no fat or cholesterol and are low in sugar. These guilt-free dressings not only taste great, but also add a healthy dose of vitamins A, C and K to your diet."
Irvine, California (PRWEB) August 13, 2014
Victoria's Garden Grown has launched its first line of delicious and nutrient-rich vegetable-based dressings to meet consumer demand for healthier, organic condiment options. The perfect complement to a variety of foods, this gluten-free, GMO-free and vegan condiment line is made using wholesome, organic vegetables as its primary ingredient. The dressings are a proprietary blend of natural ingredients and organic produce, without any artificial sweeteners.
"As Americans become better educated about their health and the benefits of consuming natural and organic products, the timing is perfect for my new line of dressings and marinades," said COO & head gardener, Victoria Hoke. "At just 15 to 20 calories and as little as 65 mg of sodium, my dressings have no fat or cholesterol and are low in sugar. These guilt-free dressings not only taste great, but also add a healthy dose of vitamins A, C and K to your diet."
Victoria's Garden Grown comes in six innovative flavors: Beet Vinaigrette, Kale Lemon Herb, Sweet Kale, Carrot Ginger, Red Bell Vinaigrette and Spicy Red Bell Pepper. The entire line is made with locally grown, organic vegetables and is manufactured in Southern California. Through its proprietary manufacturing process, the line retains most of its nutritional content and all of the vibrant, fresh flavors of your favorite vegetables.
Victoria's Garden Grown provides a nutritious and healthy way to add more flavor and nourishment to the diets of millions of Americans facing gluten, fat, sodium and sugar restrictions. The line is a perfect addition to every kitchen including the kitchens of those people living with chronic illnesses, such as diabetes, heart disease and celiac disease.
For a list of flavors, ingredients and delicious recipes using Victoria's Garden Grown, visit http://www.victoriasgardengrown.com.
About Victoria's Garden Grown
Five years ago, Victoria Hoke had tired of her unhealthy lifestyle and made the decision to transform the way she ate and took care of her body. She created Victoria's Garden Grown as a convenient way to enhance the flavor of healthy foods without smothering them in calorie-laden condiments. The line radiates goodness and makes vegetables number one. The six different varieties—Beet Vinaigrette, Kale Lemon Herb, Sweet Kale, Carrot Ginger, Red Bell Vinaigrette and Spicy Red Bell Pepper—offer a delicious complement to salads, egg dishes, meats, sandwiches, vegetables and grains. Victoria's Garden Grown has emerged as an entirely new category for health-conscious individuals craving flavor, nutrition and variety in their diets. Additional information can be found at http://www.victoriasgardengrown.com.
###