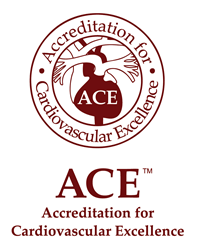 'We chose ACE because of their high standards, their leadership in the industry and because they are sponsored by ACC and SCAI.' — Laurie Rieger, RT (R) (CV), Manager of Cardiovascular Services, UPMC East
Washington, DC (PRWEB) August 13, 2014
The exceptions committee from the Commonwealth of Pennsylvania has announced its approval of the UPMC East application to perform elective PCI without onsite open heart surgery for their cardiac catheterization lab. The decision by the Commonwealth to provide the exception was based, in part, on UPMC East's successful application for accreditation by ACE.
UPMC East was the first to go through a special application and review process for ACE accreditation after a decision by the Commonwealth of Pennsylvania. The decision, made in January, 2014, stated that Pennsylvania cardiac catheterization laboratories that wish to provide elective percutaneous coronary intervention (PCI) services, without onsite open heart surgery at their facilities, must be accredited. The accrediting organization must be state department‐approved with standards at least equal to those of the Accreditation for Cardiovascular Excellence (ACE).
ACE is the first organization to be recognized by the Commonwealth and has been leading the way by providing expert guidance to state regulatory departments on national standard criteria for the cardiac catheterization lab. Citing accreditation and external review as an accepted strategy for program quality assurance, ACE is viewed as the standard-bearer for achieving quality metrics in the cardiac catheterization lab. To date, 50% of the cardiac catheterization lab facilities performing elective PCI procedures without onsite surgery in Pennsylvania have applied for ACE accreditation to seek a waiver from state requirements.
"UPMC East is staffed with highly qualified, experienced cardiologists and clinical staff who will provide patients with the same excellent care that they would receive in the city, with the added benefit and convenience of staying close to home. We anticipate a high volume of patients," said Abdulrab Aziz, MD, Chief of Cardiology at UPMC East.
"We chose ACE because of their high standards, their leadership in the industry and because they are sponsored by ACC and SCAI," stated Laurie Rieger, RT (R) (CV), Manager of Cardiovascular Services. "The state has a goal to deliver the highest quality invasive cardiovascular care for Pennsylvania residents. ACE is a partner with our cardiac catheterization lab and the state to set the standard for quality in Pennsylvania."
Visit our website to learn more: http://www.cvexcel.org.
ACE, an independent organization sponsored by the Society for Cardiovascular Angiography and Interventions (SCAI) and the American College of Cardiology Foundation (ACCF), offers independent evaluation and monitoring of facilities that provide cardiovascular care. By reviewing facility and operator performance and comparing clinical decision-making to nationally accepted best practices, ACE quality review and accreditation services play a critical role in continuous quality improvement programs. Learn more at http://www.cvexcel.org.