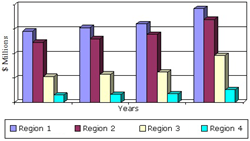 Wellesley, MA (PRWEB) August 13, 2014
BCC Research (http://www.bccresearch.com) reveals in its new report, BIOPSY DEVICES: TECHNOLOGY AND GLOBAL MARKETS, the global market for biopsy devices is expected to grow to $1.9 billion by 2018, registering a five-year compound annual growth rate (CAGR) of 6.3%. Asia-Pacific holds the highest opportunities leading with a CAGR of 11%.
North America and Europe are currently dominating the biopsy device market in terms of revenue. Companies are now concentrating on providing cost effective biopsy devices to take advantage of the opportunities in the developing Asia-Pacific market. These low cost biopsy devices will help decrease the overall cost of biopsy procedures. Advancement in imaging technology has increased the demand and commercial application for biopsy devices.
"The companies in the biopsy devices market are adopting various strategies to boost their market capitalization," says BCC Research analyst, Yojana Jeevane. "As biopsy devices are continuously evolving technologically, the companies engaged in the manufacturing of new products and solutions are launching new and better products into the market to stay competitive."
BIOPSY DEVICES: TECHNOLOGY AND GLOBAL MARKETS presents an in-depth analysis of the global biopsy devices market by device, therapeutic segments and geographic markets. Global market trends have been analyzed with data from 2012 and 2013, and CAGR projections through 2018. The report also discusses the market by type of procedure, such as trends and market estimates of key therapeutic areas such as breast cancer, gastro-intestinal cancer, lung cancer, and cervical cancer, among others.
Editors and reporters who wish to speak with the analyst should contact Steven Cumming at steven(dot)cumming(at)bccresearch(dot)com.
About BCC Research
BCC Research publishes market research reports that make organizations worldwide more profitable with intelligence that drives smart business decisions. These reports cover today's major industrial and technology sectors, including emerging markets. For more than 40 years we've helped customers identify new market opportunities with accurate and reliable data and insight, including market sizing, forecasting, industry overviews, and identification of significant trends and key competitors. We partner with analysts who are experts in specific areas of industry and technology, providing unbiased measurements and assessments of global markets. Our clients include the top companies in industries around the world as well as universities, business schools, start-ups, consulting firms and investment companies. BCC Research is a unit of Eli Research LLC. Visit our website at http://www.bccresearch.com. Contact us: (+1) 781-489-7301 (U.S. Eastern time), or email information(at)bccresearch(dot)com.
Data and analysis extracted from this press release must be accompanied by a statement identifying BCC Research LLC, 49-2 Walnut Park, Wellesley, MA 02481, Telephone: (+1) 781-489-7301; Email: editor(at)bccresearch(dot)com as the source and publisher. Thank you.