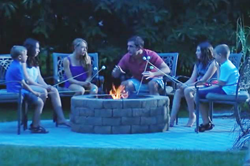 LINCOLN, R.I. (PRWEB) August 13, 2014
Fire pits are a great addition to any backyard or outdoor area. They're perfect for entertaining guests, and they help to keep the bugs away. However, any kind of open flame can be dangerous, and it's important to know what precautions to take.
That's why Amica Insurance is answering some common fire pit safety questions with information from the U.S. Fire Administration.
Q: What type of fuel should be used to start a fire?
A: Use only dry wood when building fires. Never use flammable liquid to start a fire, and never burn cardboard, trash or other debris in a fire.
Q: How big should a fire in a fire pit be?
A: There's no reason to build a big fire. Small fires burn out completely, produce less smoke and are easier to put out in case of emergency.
Q: Where is the safest area in a yard to have a fire pit?
A: Fire pits should be placed at least 15 feet away from homes, shrubs and bushes, trees and any other flammable materials. Also, be sure to keep a three-foot safe zone around open fires at all times. Always check local zoning laws for specific restrictions before installing a fire pit.
Q: What should be done with the ashes after having a fire?
A: Always allow ashes to cool before disposing of them. Douse and saturate them with water to ensure that they're cool. Place them in a tightly covered metal container and keep it at least 10 feet away from structures. Never empty ash directly into a trash can.
Q: What is the proper way to maintain a fire pit?
A: Make sure to clean the fire pit after every use. Keep the fire pit clear of debris and buildup, and be sure to properly dispose of ash. Before using it again, be sure to check the area for flammable material that could be unintentionally burned.
About Amica Insurance
Amica Mutual Insurance Co., the nation's oldest mutual insurer of automobiles, was founded in 1907. The company, based in Lincoln, Rhode Island, is a national writer of auto, home, marine and umbrella insurance. Life coverage is available through Amica Life Insurance Company, a wholly owned subsidiary. Amica employs more than 3,300 people in 43 offices across the country. For more information, visit Amica.com.
CONTACT: Vince Burks, Corporate Communications, 50 Amica Way, Lincoln, RI 02865-1155, 800-652-6422, ext. 24563
Twitter: Amica
Facebook: Amica Mutual Insurance Co.