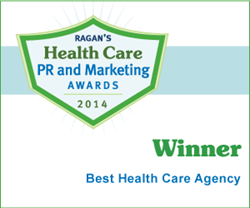 We are doing PR in a totally different way than most agencies and brands. Instead of relying on media alerts and press releases, our team identifies and produces news stories as brand journalists embedded into health care brands
Columbus, Ohio (PRWEB) August 14, 2014
Award-winning public relations focused on brand journalism tactics for major health care organizations landed MediaSource as 2014's Best Health Care Agency in the Ragan Communications Health Care PR and Marketing Awards for the second consecutive year.
MediaSource's innovative brand journalism tactics have gained major exposure and return on investments for their clients over the past year, which consistently exceed expectations.
Judges in the competition compare MediaSource's brand journalism leadership in health care to beverage icon Coca-Cola's influence in its industry.
"Just as Coca-Cola's trendsetting brand journalism has produced important third-party media coverage, MediaSource's work has had the same effect, generating coverage in important outlets like NBC Nightly News, The Today Show, CBS This Morning, CNN, MSNBC, CNBC, Dateline, ABC World News Tonight and a host of others," said the judges of the competition in a written statement.
In fact, MediaSource's results for virtually all of their hospital clients blew away expectations for each of their brand journalism goals: boosting clients' reputations in key markets, and maximizing content across multiple channels to amplify the hospitals' message and reach. With MediaSource as a partner, both The Ohio State University Wexner Medical Center and Nationwide Children's Hospital each reached an audience of almost 4 billion with their message in a one-year period.
As the media industry changes, producing quality content that gets seen by key audiences is a tactic that progressive brands are striving to master. With over 15 years in the industry, MediaSource owns a unique style of public relations that emphasizes brand journalism-style content and aggressive, strategic media relations.
"We are doing PR in a totally different way than most agencies and brands. Instead of relying on media alerts and press releases, our team identifies and produces news stories as brand journalists embedded into health care brands. This is the future of the communications industry," said Lisa Arledge Powell, a former television reporter who is now president of MediaSource.
The firm works with the nation's top health care providers including The Ohio State University Wexner Medical Center, Nationwide Children's Hospital, National Jewish Health, American Society of Plastic Surgeons, Orlando Regional Medical Center and Arnold Palmer Hospital for Children.
More information on Ragan's Health Care Communication News.
MediaSource, located in Columbus, Ohio, is a national leader in health care public relations and marketing. The company's brand journalism team uses journalistic tactics to create client content which is amplified by both using earned media and company-owned media coverage. The team of brand journalists also utilizes their Multimedia Newsroom, which MediaSource developed as a way to deliver high quality multimedia content directly to the news media, allowing for maximum buzz for clients.
MediaSource President Lisa Arledge Powell is a leading expert on brand journalism, speaking at national and regional industry conferences including PRSA Health Academy, The Mayo Clinic Health Care Social Media Summit and Content Marketing Institute's Content Marketing World.
MediaSource has a track record of many PR industry related awards including, most recently, Best Content Marketing/Brand Journalism by PR Daily. Within the past 11 months, MediaSource has taken home 20 awards from industry leaders and industry organizations.
ABOUT MEDIASOURCE
MediaSource is a public relations firm that specializes in brand journalism tactics. From news media coverage to consumer video tactics, MediaSource partners with the nation's top hospitals and corporations to get their message to targeted audiences. MediaSource is best known for delivering brand buzz by amplifying messages across both earned media and company-owned media channels.