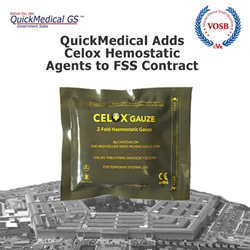 Issaquah, WA (PRWEB) August 19, 2014
QuickMedical, a national leader in the distribution of medical equipment and supplies and a veteran-owned small business has officially added Celox First Aid hemostatic agents and dressings to its FSS contract. Now Celox First Aid hemostatic medical supplies will be available for all government buyers on gsaadvantage.gov for
easy, online orders.
Celox First Aid hemostatic dressings can stop bleeding from lacerations, minor cuts and abrasions in as little as one minute. Celox First Aid state of the art granules are composed of chitosan and are equally effective on blood containing blood thinners such as Coumadin or in cold environments where blood clotting can be slow. For this reason, they are ideal for home, workplace first aid and remote location use.
Celox First Aid is the technology behind the Celox brand of trauma hemostats used by the military, law enforcement and emergency services. The U.S. Department of Defense recently approved the Celox hemostatic gauze dressings for use by US armed forces.
About QuickMedical:
QuickMedical is a vet-owned small business serving the federal government with three FSS contracts. Federal government customers can order any of our 13,643 items on our FSS/GSA contracts directly from QuickMedical Government Sales. QuickMedical also provides medical equipment and medical supplies commercially to hospitals, labs, industry, universities, and home consumers.