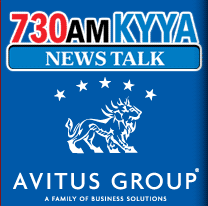 When companies are making a decision on where to headquarter their business or where to open up a second location, crime and safety are factors. -Dianne Parker, Avitus Group PR Manager
Billings, Montana (PRWEB) August 18, 2014
Montana's top law enforcement officials are meeting in Billings August 26th for a roundtable discussion on the state's biggest issues within the law enforcement industry. The special radio show, "Justice Under the Big Sky," is set to air live from the Avitus Group boardroom from 6:00 a.m. to 8:00 a.m. on News Talk 730 AM with host Scott Fredricks and guest co-host, Avitus Group's Senior VP of Finance, Steve Bentley.
The program will feature a number of hard hitting issues affecting the state from human trafficking to drugs and crime in the Bakken area. Officials will also discuss crime increases in a growing city and how Billings is addressing them.
"Avitus Group helps businesses with all of the back office aspects of running a business, including strategic planning. When companies are making a decision on where to headquarter their business or where to open up a second location, crime and safety are factors. Avitus Group supports businesses coming to Montana and this is a pertinent topic for our clients and individuals as well." -Dianne Parker, Avitus Group PR Manager
Guests include Montana Attorney General Tim Fox, Billings Police Chief Rich St. John,
Yellowstone County Sheriff Mike Linder, Montana Highway Patrol Captain Keith Edgell, U.S. Marshal Darrell Bell, Chief Deputy U.S. Marshal Rod Ostermiller and DEA Resident Agent in Charge Joe Kirkland.
Listeners are invited to post questions to the News Talk 730 AM and Avitus Group Facebook pages.
Avitus Group is a nationwide company, based out of Billings, Montana. Avitus Group helps other companies with administrative hassles. When businesses use Avitus Group, all of the necessary, yet burdensome functions of the business become Avitus Group's responsibility, so the business can focus on what they do best, grow and increase profits. Avitus Group serves clients nationwide through 10 regional office locations from California to Florida. They also serve international clients through partner locations in Europe, Canada, China, England, India, Japan and Singapore.