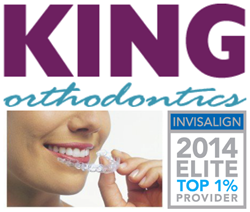 Top 1% provider in the nation!
Pittsburgh, PA (PRWEB) August 15, 2014
King Orthodontics located in Wexford and downtown Pittsburgh is currently helping adults and children gain confidence in their smiles with the newest product called Invisalign®.
Invisalign® is a break-through product that avoids the discomfort, hassle, and visibility of traditional braces. Teens using Invisalign Teen® will receive a new set of invisible aligners every six weeks via the orthodontist.
There are parameters to be meet to utilize Invisalign®, and the orthodontists offering this product must be in the top one-percent of orthodontists in their respective locations. King Orthodontics exceeds that expectation by ranking in the top one-percent of Invisalign providers in the country.
Being the leading provider in Pittsburgh of Invisalign®, King Orthodontics has treated over 3,000 cases with Invisalign®. Because of this, King Orthodontics has some famous faces come through the office, too. Singer, actress, and model Jackie Evancho is a patient of Dr. Bryan and Earle King.
"Confidence while singing was never a problem, but confidence in my smile was," said Evancho. "That's why I choose King Orthodontics and Invisalign Teen®."
This alternative method of straightening one's teeth has very minimal interference with a busy lifestyle and produces positive impacts on how one feels about his or herself.
About King Orthodontics:
King Orthodontics has over 30 years of helping the Pittsburgh area, children and adults, achieve confident smiles. Drs. Earle and Bryan King are father and son running the prestigious orthodontic offices in Pittsburgh (1980) and Wexford (2006). Both Dr. Earle and Dr. Bryan are certified orthodontists.
For more information, please visit http://www.kingorthodontics.com.
###