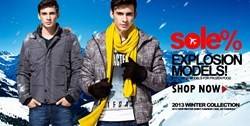 (PRWEB) August 17, 2014
Skmen.com, an innovative company that provides many kinds of fashionable clothes, has launched a big promotion for its long sleeve shirts. At the moment, all the supplier's long sleeve shirts are offered with big discounts, up to 29% off.
Skmen.com wants to show thanks to all its loyal clients by launching such a special offer. Its company's senior spokesman believes the cheap long sleeve shirts will make a lot of customers delighted. The huge price cuts will certainly help ladies save time and money.
All the discounted long sleeve shirts are brand new; they are specially designed for people who never compromise on product quality. What's more, they are provided in several trendy styles and popular colours. Our experienced designers did a lot of market researching before making the new long sleeve shirt assortment. We want to meet the diverse needs of the global clients. Please note that the current sale will come to an end on August 22," the senior spokesman says.
For additional information, Skmen.com is now one of the biggest players in the fashion field. The company is striving to help every client to save money and energy. Along with long sleeve shirts, it is also providing big savings for many other products.
About Skmen.com
Skmen.com, a reliable company founded in 2009, is one of the leading suppliers of men's and women's high quality clothes. It has more than 5000 customers from every part of the world; it hopes to help worldwide stylish ladies and gentlemen. Now, it is selling thousands of fashionable items online. For more detailed information about the company and its wonderful items, readers can visit http://www.skmen.com/product-long-sleeve-dresses-003004007.aspx.