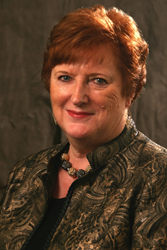 It is (her) rare combination of skills and experience, together with her hands-on hard work ethic, that sets her apart from the highly competitive national pool of impressive leaders we interviewed.
CLAREMONT, Calif. (PRWEB) August 20, 2014
Dr. Eileen Aranda, a recognized and respected expert in strategic management, business ethics, educational pedagogy and organizational development, has been named the next president for Claremont Lincoln University.
The Claremont Lincoln Board of Trustees selected Dr. Aranda to help lead the university through a projected period of intensive growth and organizational restructuring. She was chosen from among many other candidates interviewed as part of an extensive national search. Prior to her new appointment, she served as Executive Vice President for Strategy and Chief Operating Officer for the university.
"Many of the people we interviewed for this position were extremely impressive," said founding CLU President Jerry Campbell, whose plans to retire this summer launched the national search for his replacement. He remains a member of the university's governing board. "Many of those candidates would have been great presidents for the university, but Eileen's experience and skills make her the best candidate for the university right now, at this particular point in its development."
Kathryn Jo Lincoln, board director and chair of the national search committee praised Dr. Aranda's experience with cutting-edge pedagogical solutions. "Dr. Aranda has a proven track record as one who builds 21st century models of higher education delivery," Lincoln said. "She is known for her ability to bring innovation and strategy to organizations and she understands and is deeply committed to our mission. It is this rare combination of skills and experience, together with her hands-on hard work ethic, that sets her apart from the highly competitive national pool of impressive leaders we interviewed. We are delighted to have Eileen take Claremont Lincoln University to the next level."
"Dr. Aranda knows our history, our dreams, our challenges, and our realities," said board member Frank Ellsworth. "She brings to the presidency at this exciting moment in our history, integrity, experience in both the for-profit and nonprofit worlds, and a strong background of working with our benefactors, which will serve us well."
Dr. Aranda's career has been a hybrid of business and academics for both higher education and business entities. She spent her career in C-level positions as both a consultant and executive, acting as a linchpin and change-agent for organizations. She is known for facilitating strategic thinking among teams, project innovation, dispute mediation and the design and delivery of management education programs.
Dr. Aranda worked for more than three decades domestically and abroad as a management and education consultant, with senior pioneering positions for innovation at both University of Phoenix and the W.P. Carey School of Business at Arizona State University.
Dr. Aranda has also designed and lead educational programs internationally on business ethics and educational approaches to changes in technology, and is a published author of several books and articles including, "What You Say Does Count: Helpful Verbal Behaviors in Negotiating Commercial Transactions," and "Teams: Structure, Process, Culture and Politics."
ABOUT CLAREMONT LINCOLN UNIVERSITY
Claremont Lincoln University is a graduate institution that immerses students in a dynamic learning community that leverages pluralistic perspectives to promote richer thinking toward transformation. Our mission is to put wisdom to work in the world, and our proprietary Claremont Core methodology enriches the learning experience with mindfulness, dialogue, collaboration and change, enabling students across a variety of sectors to implement change for good. The university offers master's degrees in Ethical Leadership, Interfaith Action and Social Impact. http://www.ClaremontLincoln.org.