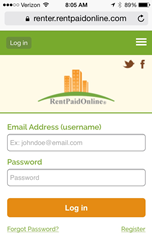 It is an exciting time for our clients as we continue to push the envelope on new technology and provide the ultimate technology for our residents and clients. - Steven J. Foster, Chief Business Development Officer / EVP
Clearwater, FL (PRWEB) August 19, 2014
RentPaidOnline (RPO), an industry leader in mobile rent payments, announced today the release of its fully mobile optimized resident portal. This is the first comprehensive solution that has been designed to deliver the functional mobility that residents want that combine the security and data protection property management companies need, without compromising user experience or privacy.
The RentPaidOnline Optimized Solution is the first of its kind from its design to the approach that was taken to build it. The RPO mobile optimized solution is a fully integrated product suite allowing residents to pay rent with E-check, Credit Cards, money orders, submit maintenance request, and view payment history. Now residents can address payment of what for most is their largest monthly bill through any of RentPaidOnline's mobile existing legacy apps or by using any device and simply logging into their resident portal. "It is an exciting time for our clients as we continue to push the envelope on new technology and provide the ultimate technology for our residents and clients," said Steven J. Foster, Chief Business Development Officer / EVP
"Whether making payments, submitting maintenance requests or contacting your manager while on the go, this next generation mobile responsive portal system has it all right on your fingertips," says Nicholas Cloonen, Director of Product Management. "We were able to engage our users, perform market research and really address the need for residents and managers to be able to do more than just pay on the go."
RentPaidOnline's suite of products includes real time web-based portals backed by a mobile gen-y platform for electronic checks, credit cards, and cash payments for the Property management industry. "This project was a lot of fun. Our residents really had a good time being a part of something they plan to use going forward," said Cloonen. "I could not be more proud of our clients, residents and UX (User Experience) team who all came together and delivered this automated feature that makes mobile use easier."
About RentPaidOnline:
RentPaidOnline was founded by seasoned industry leaders as a solution for online payment seeking clients that were dissatisfied with current options. The goal was to connect properties with their residents while making payments easy. While it's important to offer renters ease of use and mobility, we feel that the community staff are equally as important. Property managers are given the most advanced reporting and digital marketing tools the industry has to offer and are never subjected to an "upgrade" or "monthly subscription" fee. RentPaidOnline understands the importance of having a solution and a provider that adds value to any company big or small. Our vision is to offer a cost-effective suite of products that meet the demand of today's educated renter and exceed all users expectations. Based on innovation, technology and its employees, we will be the payment processing company your organization has been looking for!