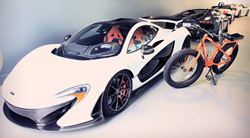 We couldn't have asked a better partner to represent our newest eco-friendly, fat bike designs.
Vancouver, BC (PRWEB) August 19, 2014
SR Auto Group has added the innovative Element line of electric-powered fat bikes to complement its signature series of ultra-exclusive exotic vehicles. These new all-terrain practical and recreational vehicles combine high-end sophistication with plenty of street cred, delivering adventure and excitement in transportation. At SR Auto British Columbia's most discerning residents will discover a completely new way to upgrade their garage collections when they visit Vancouver's most prestigious supercar dealer.
SR Auto is perhaps best known for its supreme lineup of stylish and unique supercars. Adding unique upgrades to elevate the refined style of the world's most envied luxury and sports cars, SR Auto Group has become regarded as the place for British Columbia's most affluent trend-setters to shop.
Among the collection of exclusive auto art the firm has stocked its Vancouver gallery with vehicles such as the DMC Lamborghini Aventador PUR RS05. V2, the Audi R8 GT Spider PUR 4OUR, and the Range Rover Vogue.
A photo-shoot to announce the arrival of the newest two-wheeled addition to SR Auto's collection features the incredible McLaren P1 supercar alongside the Surface 604 Element 2.0. SR's super-exclusive McLaren, valued at $1.8M, has much more in common with the Element than meets the eye; the edgy class and fat tires are obvious similarities, but the limited edition P1 boasting in excess of 890 bhp, and 722 lbs. ft. of torque is actually an electric hybrid too.
Capable of speeds of 20 miles per hour, and taking on urban streets, sand and snow with ease, the Element is the fastest known bike ever to be designed, and provides a ride no less exhilarating or head turning.
John Dem, spokesperson for BC based Surface 604 said of the new arrangement: "We couldn't have asked a better partner to represent our newest eco-friendly, fat bike designs," adding "our synergy in values and appreciation for pushing the boundaries in innovation and quality are in perfect alignment."
SR's fleet of cars are favorites among the ranks of the top 1% of Canada's wealthiest, and getting out on a bike can be essential to fully enjoy British Columbia's incredible natural assets. What better way to experience the elements than on an eco-friendly, head-turning, electric fat bike?
Experience the Surface 604 Element at SR Auto's showroom on 1757 West 3rd Avenue, Vancouver, BC. To enquire about becoming a distributor in other regions visit the bike manufacturer online at http://www.Surface604.com.