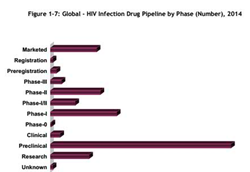 It is expected that in the next 5-8 years, the pharmaceutical companies would focus more on the development of a successful efficient vaccine to control the spread of this disease
(PRWEB) August 18, 2014
Global HIV Infection Drug Market and Pipeline Insight is a new pharma report announced by Reportstack. The rate of HIV infection and the number of deaths due to AIDS has been on a declining note at a positive rate across the globe. It has been estimated that the death rate reduced from 2.3 million in 2005 to 1.5 in 2013, with the rates for children being even much lower. A major cause for such drastic changes in the infection rates has been the improved access to antiretroviral drugs and therapy in recent years. The access to these drugs and therapy has improved significantly, particularly in many developing countries where these drugs and treatments were previously not available at all. At present these solutions have been made accessible and affordable also.
However, a major trend observed in this market has been that although the HIV infection rates are falling, the number of new patients being affected by the virus is increasing. With all the conscious efforts undertaken by all the related organizations and stakeholders, it is expected that by 2015, significant investments would be recorded in this field with the WHO setting an aim to treat close to 15 million HIV patients.
In terms of the market, with the rising popularity of this disease and the growing efforts to combat its spread, it is most likely that an increasing number of companies would enter this market, which would, in the long run, reduce the overall cost of drugs owing to increased competition among the players. Additionally, economies of scale would also be a major factor driving down the cost of drugs targeted for the HIV virus infected people. This in turn would make the drugs and treatment options more affordable.
It is expected that in the next 5-8 years, the pharmaceutical companies would focus more on the development of a successful efficient vaccine to control the spread of this disease. The allocation of resources should necessarily reflect ongoing, strategic prioritization of candidates in the pipeline. With the progress of trials and accumulation of information on the safety and efficacy of new products, there is an urgent demand for strategizing the product pipelines and the prioritization of the decisions. There needs to be complete scrutiny of every single technological area of HIV prevention R&D so as to reflect the best methods of channelizing the funds which are limited in nature. The funds need to be specifically directed towards only those products and approaches which have a high probability of succeeding, instead of those which are less promising.
"Global HIV Infection Drug Market & Pipeline Insight" Report Highlights:

Global HIV Infection Drug Market Overview & Incidence Scenario
FDA & EMA Regulation for Development of HIV Drug
Global HIV Infection Drug Clinical Pipeline by Phase, Company & Country
Global HIV Clinical Pipeline: 315 Drugs in Development Phases
Majority HIV Drug in Preclinical Phase: 144 Drugs
Marketed HIV Drugs: 37
Suspended & Discounted HIV Drug in Clinical Pipeline: 539 Drugs
Patent Analysis: Patent Number & Technology
To get the complete report, please visit Global HIV Infection Drug Market report.
About Reportstack:
Reportstack is one of the leading distributors of market research reports in the world today. Reportstack provides access to over 50,000 company profiles and their strategic information like SWOT analysis, pipeline review reports, chemical industry reports, deals and partnerships analysis, merger & acquisition activity and new product launches. Reportstack is also a leader in the field of consumer retail research, pharma and healthcare market research reports.
Contact:
Debora White
Email: debora(at)reportstack(dot)com
Reportstack Market Research
Ph: +1-888-789-6604
United States
Twitter: https://twitter.com/reportstack
Google+: https://plus.google.com/+ReportstackMarketResearch