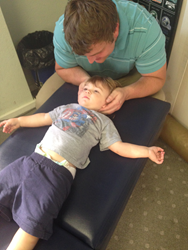 "You know it is just unprofessional how these huge organizations are allowed to lie about their own research to try to damage the Chiropractic profession. In reality the research supports Chiropractic and falsifies their claims." Dr. Michael Harbison
Wood River, Il (PRWEB) August 20, 2014
For decades it has been a common statement of the allopathic medical world that chiropractic adjustments are dangerous and cause strokes, cervical artery dissection, or vertebral artery dissection, and this is why they do not recommend chiropractic to their patients. Now times have changed and the more educated medical doctors do refer to chiropractors because they have read the research and know the truth. However a statement regarding new research has popped up that tries to cast doubt on that truth.
The new research is not chiropractic research, but comes from the American Heart Association and the American Stroke Association. After their research was completed, these groups issued a statement that twists their own research findings to make it sound damaging to chiropractic by omitting key pieces of information, and claiming they miscalculated some of the statistics which skewed their numbers.
Here is the statement that the American Heart Association and the American Stroke Association released:
"Cervical dissection is an important cause of ischemic stroke in young and middle-aged patients. Cervical dissection is most prevalent in the upper cervical spine and can involve the internal carotid artery or vertebral artery. Although current biomechanical evidence is insufficient to establish the claim that cervical manipulation causes cervical dissection, clinical reports suggest that mechanical forces play a role in a considerable number of cervical dissections. Most population controlled studies have found an association between cervical manipulation and Vertebral Artery Dissection stroke in young patients. Although the incidence of cervical manipulation associated cervical dissection in patients who have previously received cervical manipulation is well established and probably low, practitioners should strongly consider the possibility of cervical dissection as a presenting symptom, and patients should be informed of the statistical association between cervical dissection and cervical manipulation."
What this statement really says:
Let's look at what the research paper actually says and see how the researchers' statement carefully omits key words from their own research findings to prove their point. These researchers are acting more like politicians than researchers, as a true researcher only states the facts.
In their research published in Spine 2008 one of their key points is that the risk of vertebral artery dissection is rare (.05 out of 100,00) and that those patients were as likely to have seen an MD as a DC in the week preceding the stroke. They also assumed that the patients even saw a chiropractor at all.
In their statement published in the Journal of Stroke and Cerebrovascular Diseases 2014 they looked at the vertebral artery dissection occurrence in VA population estimates. This number indicated vertebral artery dissection incidence of 388 out of 16 million. They then took the national average of people who utilize chiropractic care, and stated that same percentage of the 388 would have received a chiropractic adjustment that would have caused the vertebral artery dissection. This is assuming that every single person not only received a chiropractic adjustment, but that their adjustment was a cervical adjustment. Even at this rate the likeliness that vertebral artery dissection is caused by a spinal manipulation is very rare, almost non-existent (.05 out of 100,000).
Also, the individuals used in this study were already predisposed to vertebral artery dissection due to their current medical state and condition. So the bottom line with their numbers is that they guessed. If you asked any one of the researchers (I use the term loosely) how many of those patients, for sure, received a cervical manipulation prior to experiencing vertebral artery dissection, they would be unable to provide an answer because they do not know. They are merely guessing. Guess work does not validate damaging statements against an entire profession! Their actions are unacceptable. Skewing research is completely unacceptable, and in the end those who try to do it damage their credibility and reputation.
What research that is not skewed has to say:
Now let's look at some research that is not skewed. These numbers and facts were also researched by the American Heart Association and the American Stroke Association. Researchers performed imaging studies to assess the impact on the cervical spine during a chiropractic adjustment. They found no significant change in blood flow. They also used cadavers to show that a cervical manipulation does not put enough strain on the vertebral artery to cause vertebrobasilar ischemia. In other words, research from the same group completely disproves everything they are trying to state publicly now.
The bottom line: It is always the responsibility of the primary care physician, whether an MD, DO, or DC, to evaluate the patient and determine the best plan of care. Truth be known, prolonged NSAID use creates a greater risk of death than a spinal manipulation. For every 100,000 people taking NSAIDs, 15.3 of them are likely to die from those NSAIDs. Out of 100,000 people receiving a chiropractic adjustment, 0.05 are likely to have serious complications, not death, but serious complications. Yet most MDs will not send you to a chiropractor, but have no problem telling you to take more NSAIDs. It's your health, take control.
Dr. Mike Harbison has become a sought after speaker in the health and wellness community, speaking on topics ranging from autism to how to treat the pregnant patient. He has helped businesses both large and small save hundreds of thousands of dollars by assisting in their health and wellness programs.
AlignLife is a chiropractic and natural health franchise founded in 2007 with the mission to provide the highest quality of natural healthcare services to communities around the nation. The integration of chiropractic with other natural health services has proven to save time and money while reducing the hassles of dealing with the complex American health care system. AlignLife is operated by founder and CEO, Dr. Joseph Esposito and President, Dr. Cristina Esposito. There are currently 25 AlignLife locations within six states around the nation and expansion plans are to have 50 locations by the end of 2014. For more information or to find a clinic new you go to http://AlignLife.com.