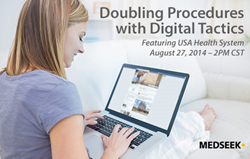 'The strong results of our digital campaign reflect the trends occurring in the market today,' explained Daniela Werner, Web Marketing Specialist, University of South Alabama Health System.
Birmingham, AL (PRWEB) August 19, 2014
The University of South Alabama Health System, who doubled bariatric procedures performed at their hospitals using digital campaigns, will speak on an upcoming educational webinar to help others learn from their success.
Faced with the challenge of the region's daily newspaper reducing its publication frequency, the health system knew it would be more difficult to reach their target audience through print than ever before. In response, they redirected the budget for promoting their bariatric surgery program from traditional print ads to digital campaigns. "We had to move quickly in our transition from print to digital in order to keep our community educated about the valuable services we provide," stated Bernell Dorrough, Web Marketing Coordinator, University of South Alabama Health System. "We engaged BrightWhistle and MEDSEEK to help us broaden our online presence and reach our target audience, resulting in double the volume for our weight-loss surgery program."
"The strong results of our digital campaign reflect the trends occurring in the market today," explained Daniela Werner, Web Marketing Specialist, University of South Alabama Health System. "More and more patients are using the Web and social media to research procedures and find providers, and we were able to provide our patients the relevant information they needed to aid them in their weight-loss journey."
On the upcoming webinar, "Doubling Procedures through Digital Tactics," Bernell Dorrough and Daniela Werner will explain how organizations can also:

Educate and engage patients in hospital offerings
Increase volumes in high-value service lines
Measure and optimize digital marketing campaigns
Grow brand awareness and loyalty in the community
Webinar: August 27th at 12:00 p.m. PST/ 1:00 p.m. MST/ 2:00 p.m. CST/ 3:00 p.m. EST
*Register to attend: http://go.medseek.com/USAHealth_Webinar
About the University of South Alabama Health System
The University of South Alabama Health System includes the USA College of Medicine, the central Gulf Coast's only medical school, and the USA Physicians Group, the region's largest multi-specialty practice, which includes more than 150 academic physicians. The system includes two hospitals: USA Children's & Women's Hospital is one of only a handful of hospitals nationwide dedicated specifically to the needs of children and women. The USA Medical Center is the area's only Level I Trauma Center and Regional Burn Center, and it has centers of excellence in stroke care and cardiovascular diseases. The USA Health System also includes the USA Mitchell Cancer Institute, a state-of-the-art facility for both treating patients and conducting research.
About BrightWhistle
Established in 2010, BrightWhistle provides a comprehensive marketing solution built exclusively for healthcare providers, payors, CROs and ACOs. The Company's proprietary and patent-pending solution applies advanced technology and data driven formulas designed to enhance a provider's acquisition and re-marketing campaigns. BrightWhistle is one of a select few companies in the world with official access to both the Facebook Ads and Google AdWords APIs and has the distinction of being focused exclusively on healthcare and providing a fully HIPAA-compliant solution to the marketplace. BrightWhistle is based in Atlanta, Georgia with offices in Birmingham and New York and can be found at brightwhistle.com.
About MEDSEEK
Since 1996, MEDSEEK has focused exclusively on building software to help hospitals and health systems virtually influence prospects and patients before and after a physical encounter. Today, the MEDSEEK Influence platform integrates web, mobile, social, predictive analytics and relationship management solutions to help organizations drive profitable volume, improve individual and population health, increase patient satisfaction and create lasting health-related loyalty. Birmingham, AL-based MEDSEEK is proud to serve over 200 customers representing over 1,000 hospitals including many of the top hospital systems in the United States and Canada.