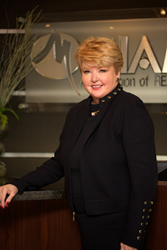 Miami is the top choice for foreign buyers in the U.S. At MIAMI, we are committed to positioning the Miami real estate market at the forefront of international expansion, and we are excited about partnering with OPPLive.
Miami, FL (PRWEB) August 19, 2014
The largest local real estate association in the U.S. has partnered with OPP to foster closer ties between the real estate communities of Miami and China.
The Miami Association of Realtors (MIAMI) is coming together with OPP to create a Mission to China this October to coincide with OPPLive China, which is being held from Thursday, October 23 - Friday, October 24 at the China World Hotel, Beijing.
Established in 2004, the business to business media, OPP, will be working closely with MIAMI and several other influential organizations to create a week of networking events in the build up to OPPLive and at the show itself. Beginning in Shanghai and then moving on to Beijing the Mission is all about creating long lasting partnerships with leading real estate companies with the clear goal of creating more Chinese incoming business for MIAMI Realtors and Developers. Participation is limited to members of MIAMI and of other approved participating associations.
OPPLive was established in London in 2005 and is the trade event for the global cross border residential property industry. It is there to connect and inform professionals. OPPLive China is a launch event, following on from its Asia debut in Singapore this spring, which was hailed as a "spectacular success."
OPP Group Owner, Xavier Wiggins, says, "Working with such an incredibly powerful and forward thinking organization with massive membership (32,000) in an area of the USA that is already very attractive to the Chinese is an honor and an exciting challenge. The potential for a further drastic uplift in real estate buyers from China is there for all to see and it is our job to help MIAMI members forge relationships that count and that can be measured in sales."
The agreement will see OPP offering a package of events to MIAMI members that include educational presentations and seminars on the Miami and Chinese markets for global real estate as well as pre-qualified meetings. OPP will be giving much exposure to the MIAMI delegates on the trip in the build up to the event, raising awareness of the opportunities in Miami real estate to the eager Chinese real estate companies, professionals, and organizations.
In turn, MIAMI will be promoting the Mission extensively to its membership as well as informing MIAMI members on the wide offering of OPP that is geared to driving global real estate alliances including the imminent launch of a major new online platform launch.
MIAMI, a leader in international real estate business, has 120 foreign partners worldwide and is often recognized for its leadership and remarkable business results, including generating greater exposure for Miami and the local real estate market, increased business opportunities, and fueling a stronger local economy.
MIAMI is the only association to be honored three times as a platinum international council by the National Association of Realtors since the inception of the Global Achievement Program in 2011 and has been recognized three times with the prestigious International Business Leadership Award by the Greater Miami Chamber of Commerce.
Teresa King Kinney, CEO of MIAMI, speaking after a meeting in the association's Headquarters with Xavier Wiggins added: "Miami is the top choice for foreign buyers in the U.S. At MIAMI, we are committed to positioning the Miami real estate market at the forefront of international expansion, and we are excited about partnering with OPPLive to further our members' exposure in Asia, which is rapidly emerging as a strong market for Miami and South Florida. We continue to capitalize on Miami's position as a leading global destination to further promote the local real estate market worldwide."
OPP (Overseas Property Professional) Group provides essential news, information, insight, data and connections for businesses in the international property sector. Many successful Missions have already been organized to China and South East Asia but this is the first for one specific area.
As well as organizing the OPPLive shows, OPP Group publishes OPP Magazine and OPP Connect and has offices in Beijing, the Philippines, the UK, Singapore, Thailand, Spain and Canada.
Since OPP Group was established in 2004, it has generated business worth an estimated US$7billion for overseas property companies in more than 100 countries around the world.
About the MIAMI Association of REALTORS
The MIAMI Association of REALTORS was chartered by the National Association of Realtors in 1920 and is celebrating 94 years of service to Realtors, the buying and selling public, and the communities in South Florida. Comprised of five organizations, the Residential Association, the Realtors Commercial Alliance, the Broward County Board of Governors, the YPN Council and the award-winning International Council, it represents more than 30,000 real estate professionals in all aspects of real estate sales, marketing, and brokerage. It is the largest local Realtor association in the U.S., and has official partnerships with 120 international organizations worldwide. MIAMI's official website is http://www.miamire.com.
###