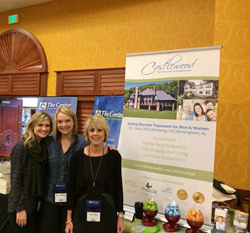 At Castlewood, we have a commitment to our clients to provide the highest quality of care.
St. Loius, MO (PRWEB) August 19, 2014
Castlewood Treatment Center for Eating Disorders is proud to support the 2014 National Conference on Addiction Disorders and Behavioral Healthcare Leadership Summit by being a treatment center tour sponsor. As part of the sponsorship, Castlewood Treatment Center is hosting a tour of its St. Louis facility and leading a continuing education workshop on Friday, Aug. 22 from 1 p.m. to 4 p.m. The workshop, Working the Shame and Vulnerability in Eating Disorder and Addiction, will be led by Castlewood's primary therapist Katie Thompson, MS, LPC, NCC.
In addition to the sponsorship, Castlewood will have a presence at the conference on the exhibit floor and will have several of their staff members in attendance who specialize in chemical dependency and substance abuse. These staff members will have the opportunity to participate in sessions and receive continuing education credits. For those unable to attend the tour and workshop on Friday evening, Castlewood staff will be available to give tours throughout the conference, upon request.
"At Castlewood, we have a commitment to our clients to provide the highest quality of care," said Nancy Albus, CEO, Castlewood Treatment Center. "Participating in conferences like the National Conference on Addiction Disorders allows our staff to interact with other nationally recognized facilities and learn about advances in evidence-based and innovative therapies to help our clients achieve lasting recovery."
The National Conference on Addiction Disorders takes place in St. Louis at the Union Station Hotel from Aug. 22 – 26. The conference is considered one of the premier national conferences on addiction providing educational curriculum on the prevention, intervention, treatment and recovery management of addictions that affect various genders, generations and cultures. This year's conference features nationally recognized treatment providers, like Castlewood, authors and educators discussing a wide range of topics in a compelling array of keynote sessions and in-depth workshops.
About Castlewood
Castlewood Treatment Center helps people with eating disorders transform to healthier lives. Established in 2000 as the first residential treatment facility in Missouri, Castlewood's licensed health care team is nationally recognized and has decades of combined experience in providing compassionate, professional and successful treatment for more than 1,000 men and women with eating disorders and related conditions. They offer individualized, supportive and comprehensive care in a home-like residential setting to help people towards recovery and a bright, healthy future. Castlewood facilities are located in St. Louis, Missouri; Monterey, California; and Birmingham, Alabama and are accredited by the Commission on Accreditation of Rehabilitation Facilities and The Joint Commission. For more information, please contact us today.