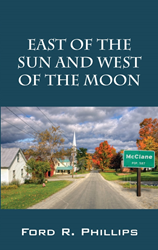 The book presents a charming picture of small town life in the 1950s.
Denver, CO (PRWEB) August 20, 2014
Outskirts Press in Denver, CO announced today the publication of a new short story collection entitled: East of the Sun and West of the Moon. The new book is an entertaining collection of short stories that all take place in and around the small, fictional southern IL town of McClane. The author, Ford R. Phillips, grew up in a very small town in southern Illinois, much like McClane, and these stories and the characters therein are all derivative of that experience. The book presents a charming picture of small town life in the 1950s. For more information about this book visit: http://www.eastofthesunbooks.com.
The significance of the book's title is explained in the preface:
"Now, said the old woman, I think you had better take my horse and ride to the East Wind and ask him. It may be that he knows the way to the land East of the Sun and West of the Moon." … from an old Norwegian folk tale.
The little town of McClane is now "east of the sun and west of the moon." It no longer exists, except in the distant and dust-laden memories of all the people who have left it. The town is no longer there. It has been completely swept away by the repeated wave actions of time.
If you have questions or would like more information about the book, do not hesitate to contact the author at 618-463-1027 or email: ford(at)riverbendmarketing(dot)com. The author is available for telephone or in-person interviews.
About the author: Ford R. Phillips
Mr. Phillips grew up at the edge of the Shawnee National Forest in a small town at the very tip of the state of Illinois, 30 miles north of where the Ohio and Mississippi Rivers meet. At age 14, he moved to Cape Girardeau, MO, six miles away, where he attended high school and the local university, receiving a bachelor's degree in English and a master of arts in American literature. He has two grown children and has been married to the love of his life for 50 years. Mr. Phillips has been a high school teacher, a corporate executive in a large St. Louis information technology company and has operated his own successful public relations and marketing communications agency for the past 25 years.
END