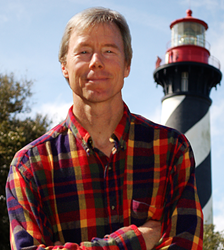 St. Augustine, FL (PRWEB) August 20, 2014
For more than four centuries, Spanish maritime culture has shaped the city of St. Augustine. This weekend, Aug. 23rd – 24th, the St. Augustine Lighthouse & Museum will honor this important part of the city's heritage during Sea Your History Weekend. Events and activities will include a presentation from Dr. Sam Turner as well as demonstrations by the Menorcan and Los Floridanos Societies.
"Throughout the year, our Sea Your History Weekends enhance our everyday visitor experience with a closer look at unique parts of St. Augustine's eclectic heritage," said Executive Director Kathy A. Fleming. "We are excited to honor not only our rich Spanish past at this weekend's event, but also the wonderful Menorcan culture and all that it has brought to our city."
Festivities will begin on Saturday at 3:00 p.m. with a presentation on the early Spanish maritime culture and landscape of St. Augustine by Dr. Turner, Director of Archaeology at the museum. Dr. Turner holds a PhD in Spanish and Spanish American studies from King's College of the University of London. He is a published scholar, adjunct professor at Flagler College and expert on the historic journey and discoveries of Juan Ponce de Leon.
Sunday morning, activities will resume with traditional wooden boatbuilding on the lighthouse grounds from 9:00 a.m. to 11:00 a.m. Volunteers will demonstrate the art of ancient boatbuilding as they continue work on three vessels currently under construction at the lighthouse boatworks. Tickets for a drawing to win one of the boats will be available as well.
From 1:00 p.m. to 4:00 p.m., members of the Los Floridanos Society and the Menorcan Society will be in the lighthouse courtyard sharing the history and heritage of their ancestors in period attire.
The Los Floridanos are descendants from the St. Augustine settlers who arrived during the first Spanish occupation (1565 – 1763). After Spain ceded the Florida colony to Britain in 1763, the majority of Spanish St. Augustine residents fled to Cuba. Only a few members of the Los Floridanos remained, including Manuel Solana and Francisco Sanchez, whose descendants still live in St. Augustine.
The Menorcans immigrated to St. Augustine in 1777, after escaping harsh conditions in New Smyrna Beach, Fla. Approximately 700 Menorcans arrived in St. Augustine and were granted land inside the city walls by British governor Patrick Tonyn. Many of these hardworking settlers from the Mediterranean island of Menorca took on integral roles in St. Augustine, especially at the light station. Menorcans Juan Andreu, Joseph Andreu, Maria Andreu and Jerome Lopez all worked as head keepers or first assistant keepers during their respective service periods at the light station. Lopez will be featured in the upcoming At Home with the Harns interactive exhibit opening at the museum this October.
In addition to this weekend's festivities, two more Sea Your History Weekends are planned for 2014. Award-winning chef Richard Hetzler from the Smithsonian National Museum of the American Indian will conduct a cooking demonstration on Saturday, Sept. 6th, to celebrate Florida's Native American culture. University of Maryland professor Dr. Richard James Bell will give a presentation on Sept. 20th highlighting the British heritage of St. Augustine.
Grant funding for Sea Your History Weekends is provided in part by the St. Johns County Tourist Development Council.
Access to all Sea Your History events is included with a general admission ticket to the museum. Tickets are $9.95 for adults and $7.95 for children and seniors. Guided specialty tours are also available. For more information, please visit http://www.staugustinelighthouse.org/SYH.