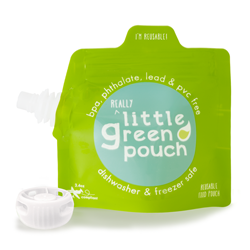 Our reusable food pouches make it easier and less expensive to feed kids Real Food on the go, while also leaving a smaller ecological footprint.
San Mateo, CA (PRWEB) August 20, 2014
Little Green Pouch today announced the launch of their newest product—the Really Little Green Pouch—to meet growing demand for eco-friendly products that make it easier to feed babies and toddlers homemade foods.
"The Real Food movement is really gaining momentum," says Little Green Pouch co-founder Maggie Crawford. She continues, "Parents want to choose exactly what they feed their kids, to limit exposure to things like pesticides and hidden ingredients in commercially prepared foods. But for busy parents, it's hard to give up the ready-to-go convenience of things like pre-made food pouches, which get expensive. Our reusable food pouches make it easier and less expensive to feed kids Real Food on the go, while also leaving a smaller ecological footprint."
Sized for baby meals and freezer safe, the new dual-purpose Really Little Green Pouch serves for both baby food storage and baby feeding. For travelers, the Really Little Green Pouch, with a 3.4-ounce capacity, is the maximum size that complies with Transportation Security Administration (TSA) limits for liquids in carry-on luggage on airplanes.
"A big part of the Little Green Pouch story is that materials matter for our health and our environment," says Melissa Winn, co-founder of Little Green Pouch. "In our reusable food pouches, you will find no BPA, no phthalates, no lead, no PVC—and for good reason."
She continues, "In 2010, after three years struggling with infertility and the emotional and physical ups and downs of fertility treatments, my husband and I conceived our daughter Bailey only after kicking BPA out of our kitchen, at the advice of our doctor, I might add. So when Maggie and I developed the first reusable food pouch, we were very careful to choose materials safe for our babies and toddlers."
From an environmental standpoint, Little Green Pouches, which can be used as many as 50 times each with proper care, reduce the number of single-use food pouches disposed of in landfills each year. According to the EPA, in 2012, Americans generated 31.75 million tons of waste plastic, including 7 million tons from of nondurable goods such as diapers, cups and utensils.
Says Crawford, "The amount of waste generated by feeding and diapering kids is staggering. Melissa and I are on a mission to reduce the amount of waste our families generate and to help other parents do the same. So we're really excited that Really Little Green Pouch helps make a baby's footprint even smaller."
ABOUT LITTLE GREEN POUCH
Founded in 2012 in San Mateo, California, Little Green Pouch is an eco-conscious, budget-conscious Life & Lifestyle company dedicated to healthy food for healthy families. Little Green Pouch was the first company to introduce spouted, reusable food pouches to the market. Developed by moms, for moms—and dads—Little Green Pouch products make healthy food more convenient, portable, eco-friendly and economical. For more information, please visit http://www.littlegreenpouch.com.