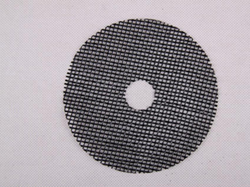 Zhengzhou, China (PRWEB) August 20, 2014
According to iAbrasive latest news, (http://www.iabrasive.com/articles/huixin-an-ignorable-part-in-grinding-wheel-fiberglass-mesh) one of its Gold Members shares with abrasives manufacturers some tips on a key factor that leads to grinding wheel edge breakage--fiberglass mesh. As a professional manufacturer of fiberglass textile and fiberglass processing products, Nantong Huixin Glass Fiber Co., Ltd. has been devoted to the production of fiberglass cloth, fiberglass backing pads, flap disc, grinding wheel and fiberglass mesh.
As a commonly used material in cutting disc, fiberglass mesh is regarded simply as a reinforced material, whose store and sorting are casual. Actually, if abrasives manufacturers ignore fiberglass mesh quality or store, a frequent problem is likely to occur: grinding wheel edge breakage.
Usually when grinding wheel edge breakage occurs, people's first reaction is to check resin powder or liquid resin, while ignore problems resulting from fiberglass mesh. In fact, if resin activated proportion in fiberglass mesh is too low, it will definitely lead to grinding wheel edge breakage.
Therefore, during fiberglass mesh manufacturing process, choice and use of resin is quite important; while fiberglass mesh storage condition cannot be ignored.
See more at: http://www.iabrasive.com/.