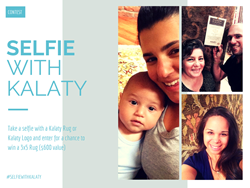 New York, New York (PRWEB) August 21, 2014
Kalaty Rug Corporation announced this week that it has launched a creative new contest designed to engage consumers via the company's active social media programs. The contest, which began August 18, is called "Selfie with Kalaty" and runs through midnight on September 18.
Entrants must "like" the Kalaty Facebook page, "follow" the Kalaty Twitter page or "follow" the company's Pinterest page. All photos must depict the entrant along with a Kalaty area rug in a store or home and/or with the Kalaty corporate logo. Each photo must be uploaded to the Kalaty Facebook page, posted on Pinterest or Twitter then tagged to Kalaty's social media pages in the post by September 18.
The winning photo will be judged on originality and creativity and will be announced via the company's social media pages on September 22. The winner will receive a 4 x 6 Kalaty area rug valued at $600.
The "Selfie with Kalaty" contest is similar to other recent social media and contest efforts designed to increase the company's brand awareness while engaging directly with consumers. At the Kalaty website, http://www.kalaty.com, visitors are able to follow the company blog to read about industry news, find helpful use-and-care tips and a wealth of other pertinent and timely information. Also on the website are links to the company's Twitter, You Tube and Pinterest pages.
The Kalaty family Oriental rug business originated in the early 1900s in Iran under Mirza Kalaty's grandfather, and in 1979, Mirza Kalaty established the company in the USA. Today, Mirza Kalaty and his five sons – Ramin, Mike, Farshad, Ariel and Kamran – run the company, which continues to progress through new designs, innovative coloring and finishing, through its commitment to the environment and by providing customers with superior handcrafted products and service. Kalaty operates showrooms in New York, Atlanta, Las Vegas and High Point. For more information about the company, its rug collections, marketing tools, services and programs, visit http://www.kalaty.com.