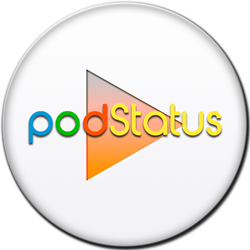 This app is amazing. Just exactly what I wanted. Thank you for putting so much thought in creating such a wonderful product. Ben -- podStatus user
San Francisco, CA (PRWEB) August 21, 2014
The podStatus Team announces the worldwide release of its updated Instagram music app for iPhone, the first to integrate Instagram's latest video feature by allowing users to share songs to Instagram (Facebook, Twitter, and email as well) for friends to listen and find out what is new and hot. Still taking screenshots of the stock music player for iPhone to post on Instagram? Well you can stop now. Seriously, it is scary to think about how many of you do this. This marks the first music player app to take advantage of video features from apps like Instagram, Vine, and Snapchat. A short promotional video for the app can be viewed on YouTube here: http://youtu.be/3srikMpxOqE.
Instagram now has a new music app and friends do not even have to have the app downloaded to hear the shared music on Instagram. This is the new way Instagram users will experience music discovery instead of posting archaic screenshots of what they are listening to at the moment. Perhaps Vine and Snapchat in the future? With Vine and Instagram already very popular for video features, the music experience is sure to evolve among these apps with the adoption of apps such as podStatus.
What started as a simply not so artistic sketch drawing, and idea for everyone to share music friends can hear on Instagram without screenshots has burgeoned into a unique innovation for iPhone music player apps. podStatus is geared toward a differentiated social experience. The app also makes song suggestions for artists users listen to in the moment, establishing a new standard where users get refined song suggestions from their favorite artists and songs.
"This app is amazing. Just exactly what I wanted. Thank you for putting so much thought in creating such a wonderful product." - Ben, podStatus user
For additional information on the news that is the subject of this release please contact Thomas Akins at thomasakinsjr(at)podstatusmusic(dot)com or visit http://www.podstatusmusic.com.