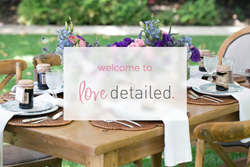 Love detailed's online store pairs its curated, themed wedding designs with related products.
Los Angeles, CA (PRWEB) August 20, 2014
Wedding design website, Love Detailed (http://www.lovedetailed.com), launches a new online store, featuring a comprehensive selection of curated wedding décor products. Love Detailed currently offers exclusive wedding design packages to help brides easily execute their wedding.
"So many sites offer wedding inspiration, but it is very time consuming to search for products to replicate these designs. With our new store, we are trying to change that, by creating a one-stop-shop for wedding design and execution," says co-founder Brooke Polson.
In recent years, the $51 billion dollar wedding industry has moved towards the digital space. New and emerging technologies on the web have given brides the ability to personalize and plan their wedding digitally. Love Detailed effectively streamlines the wedding design process, by providing themed wedding designs, the products necessary to replicate the designs, and the overall essentials to execute a wedding.
Love Detailed is a one-stop wedding design and lifestyle website. By offering exclusive design packages, paired with a curated online store, Love Detailed makes it easy for a bride to design her wedding digitally. Love Detailed has built a team of top wedding vendors, led by Wedding Expert, Linda Howard, who exclusively created each Love Detailed design.