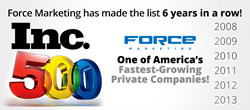 ATLANTA, GEORGIA (PRWEB) August 20, 2014
Automotive marketing firm Force Marketing recently earned a spot on the prestigious Inc. magazine 500|5000 list of the fastest-growing private companies within the U.S. This is the sixth consecutive year that the agency has been included on the list.
The list measures three-year revenue growth-- in the case of this year's list, comparing 2010 to 2013. Force Marketing had a three-year growth of 108 percent, with 2013 revenue totaling $23.7 million compared to 2010's total of $11.4 million.
The firm, which specializes in an integrated approach of multi-channel marketing for its automotive clients, also ranked No. 122 in the state of Georgia and No. 82 in the Atlanta area on this year's list.
"Each year that we're included on the Inc. 500 list is an even greater honor than the last," said John Fitzpatrick, President and CEO of Force Marketing. "This means that not only have we been growing as a company incredibly quickly, but that we are also succeeding in maintaining that growth over time."
During the past year, Force Marketing has seen tremendous growth both in its broad base of dealership, dealer group and OEM clients spanning North America, and in its team of talented automotive marketing professionals. The firm will even be moving its headquarters into a larger office, still in the Buckhead area of Atlanta, later this year to accommodate its growth.
"We have a lot of big things in the works as we enter the last few months of the year," added Fitzpatrick. "We're on track to exceed our goals for 2014, and we're very excited about how bright our future as a company looks."
Thanks to steady growth throughout 2014 thus far, the seventh consecutive year of inclusion on the Inc. 500|5000 list is in sight for Force Marketing, as the agency is pacing revenue of $38 million for 2014.
Find the complete Inc. magazine 500|5000 list online at http://www.inc.com/5000, or view Force Marketing's individual profile online at http://www.inc.com/profile/force-marketing.
ABOUT INC. 500|5000
The 2014 Inc. 5000 is ranked according to percentage revenue growth when comparing 2010 to 2013. To qualify, companies must have been founded and generating revenue by March 31, 2010. They had to be U.S.-based, privately held, for profit, and independent--not subsidiaries or divisions of other companies--as of December 31, 2013. (Since then, a number of companies on the list have gone public or been acquired.) The minimum revenue required for 2010 is $100,000; the minimum for 2013 is $2 million. The Inc. 5000 complete list can be found at http://www.inc.com/5000.
ABOUT FORCE MARKETING
Force Marketing is an automotive direct mail and digital marketing company headquartered in Atlanta, Ga. The company offers marketing services to an expansive client base throughout the U.S. and Canada. The company made Inc. magazine's 500|5000 list of the fastest-growing private companies in the U.S. in 2014 for the sixth consecutive year. More information about their auto dealership marketing services can be found online at http://www.forcemarketing.com.