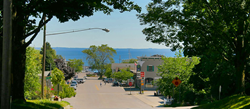 There's a lot of good stuff going on here. We want to preserve our small-town feel, our uniqueness, because that's crucial to us. But it's exciting to see all this activity.
Northport, MI (PRWEB) August 26, 2014
After years of economic stagnation, one Lake Michigan resort community is experiencing a strong recovery.
Traverse City Tourism reports that the village of Northport, located at the tip of Michigan's scenic Leelanau Peninsula, is undergoing a transformation in its tourism economy.
"Northport isn't on the way to anywhere else," said Traverse City Tourism's Mike Norton. "You have to want to go there. Fortunately, there are now a great many reasons why you should."
A picturesque resort town at the mouth of Grand Traverse Bay, Northport was founded in 1848. With its clapboard houses and busy harbor, nestled in a hilly landscape of orchards and small vineyards, it has the look and feel of a New England fishing village.
Just a few years ago, the village seemed to be on the ropes, its population dwindling and many businesses closing their doors. Out-of-towners might drive through while exploring the local wine country or visiting the nearby Grand Traverse Lighthouse, but there was little (except, perhaps the cinnamon rolls at Barb's Bakery) to persuade them to stop. But that's all over now.
Today, the village is undergoing a boom of sorts. Over the past year, new restaurants and shops have been springing up all over town – some moving into vacant storefronts, others building brand-new digs. Northport now has its own wine-tasting room, its first microbrewery and a nine-hole, solar-powered golf course.
"There's a lot of good stuff going on here," said Lisa Drummond, president of the local chamber of commerce. "We want to preserve our small-town feel, our uniqueness, because that's crucial to us. But it's exciting to see all this activity."
Drummond believes the village's remoteness has preserved it from inappropriate development over the years. But it wasn't until the village replaced its aging sewage system in 2009 (a move that generated considerable controversy at the time) that business owners began investing in the downtown area again.
"It doesn't hurt that this is an astonishingly beautiful, relatively undiscovered place, and that the people who live and work here care about it very passionately," she added.
It also doesn't hurt that Northport has some very prominent admirers, including celebrity chef Mario Batali, who has a summer home nearby and is frequently heard singing the region's praises.
Among the new and recent businesses are Tucker's of Northport, a $1.5 million bar/restaurant and "boutique bowling alley" serving lunch and dinner that opened in May; Motovino Cellars, a wine-tasting room featuring its own label of wines produced from nearby vineyards as well as specialty foods, chocolates and cheeses; Café Lelu, a full-service restaurant/bar/coffee bar serving breakfast, lunch, dinner and late night food; the Northport Brewing Co., a craft brewery that opened in August; Set in Stone, an upscale gift shop that opened this summer in the fieldstone train depot beside the village marina; the Northport Creek Golf Course, a nine-hole, par 35 course designed by architect Jerry Matthews; and The Soggy Dollar, a full-service upscale restaurant and bar that opened Memorial Day.
Northport can be reached in about half an hour via scenic M-22 from Traverse City, just 30 miles to the south. The route ambles along the shore of Grand Traverse Bay past summer homes, farms, wineries and small towns – including the charming villages of Suttons Bay and Omena and the Native American settlement of Peshawbestown – with some stunning views of the water.
Traverse City Tourism, formerly the Traverse City Convention & Visitors Bureau, is the leading destination marketing organization for Michigan's northwestern coast.