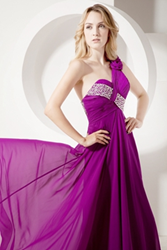 (PRWEB) August 21, 2014
Fancyflyingfox.com, the popular online supplier of wedding dresses and special occasion dresses for women, has unveiled a new collection of 2014 military ball gowns recently. Moreover, the supplier has also launched a promotion for these trendy and elegant products.
According to the company's senior spokesman, Fancyflyingfox.com launches the special offer to show its appreciation to the global customers. At the moment, all the newly released military ball outfits are provided with deeply discounted prices, up to 61% off. All clients can access the promotional prices before the deadline of the promotion (August 31, 2014).
Fancyflyingfox.com is a good place for ladies who are thinking of buying fashionable outfits online without plenty of money. The professional supplier always has something special for its customers. There are more than 200 different styles of special occasion gowns in its online store; all of them made with soft and comfortable materials.
In addition, Fancyflyingfox.com intends to tell worldwide clients that they don't need to spend too much money to look elegant. It has promised to provide only high quality special occasion dresses at cost-effective prices. Along with wonderful outfits, it also sells many beautiful fashion accessories, including sandals, dancing shoes, wedding shoes, jewellery and boots. It will continue to make more great items for its old and new clients.
About Fancyflyingfox.com
Fancyflyingfox.com is the leading online retailer for wedding gowns, special event dresses, wedding military ball dresses, and accessories. Ladies will find a massive range of high-quality wedding dresses, evening/prom gowns, flower girl dresses and more. Fancyflyingfox.com provides hundreds of dedicated items for global buyers. Now, it is offering thousands of cheap items.
For more details about the company and its dresses, readers can visit http://www.fancyflyingfox.com/military-ball-gowns-c52/.