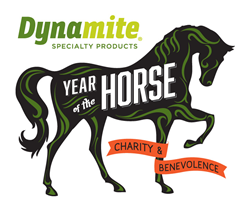 "People who buy our products are passionate about their animals and about making the world a better place," said Callie Novak, Dynamite's CEO.
Meridian, Idaho (PRWEB) August 22, 2014
Dynamite Specialty Products donated $5915.04 to Strawberry Mountain Mustang Rescue and Rehabilitation Center (SMM) in Roseburg, Oregon as part of Dynamite's Year of the Horse Project. Dynamite's Year of the Horse Project was set up as a way to give back to horse rescues to celebrate the work that they do during 2014–the Chinese year of the horse. The tireless work of horse rescues directly ties into Dynamite's vision – to improve the lives of all creatures. The Year of the Horse funds are accumulated through company donations through product sales as well as other various means including a cash donation matching program, and product sponsorship for individual horses. So far Dynamite has donated over $13,000 this year.
For the second quarter of the Year of the Horse Project, May 1 through July 31, Dynamite donated 5% of all sales of their equine foundation supplement, TNT™. On top of that they also donated 3% of all sales from June 16-30 of their proprietary, best-selling, prebiotic supplement, Dyna Pro®. Dynamite also did a cash donation matching funds program. "People who buy our products are passionate about their animals and about making the world a better place," said Callie Novak, Dynamite's CEO. "We attract people who are driven by projects that help animals, improve soil, save lives and make the world a better place."
Not included in the total amount above was a product donation that Dynamite gave to help out Phargo. Phargo is a 15-year-old Thoroughbred gelding and a retired racehorse. Phargo came to SMM in horrible condition. He had extremely bad feet, was emaciated, loaded with parasites and had some old splints that had grown to epic proportions (so large at first osteosarcoma was suspected but later ruled out with a bone biopsy). At 17 hands and deprived of feed for who knows how long, Phargo was quite a handful. Dynamite donated their full equine foundation program to Phargo. The program includes Dynamite TNT™, Dyna Pro®, and all four Free Choice Minerals–1 to 1 Free Choice, 2 to 1 Free Choice, Izmine and NTM Salt. After only 30 days Phargo had gained weight and his coat was shining. Reports from SMM are that Phargo is continuing to improve and gain weight and his attitude is improving.
Dynamite started its Year of the Horse Project in early 2014 with a call for its distributors and customers to nominate their favorite horse rescues. The initial call for nominations generated over 110 entries. The number of nominations and the passion that was behind each nomination made the decision a difficult one for each quarter. Strawberry Mountain Mustangs was a highly nominated selection and is highly active in its area and across Oregon working to change laws that protect horses from abuse and neglect.
Throughout the last several years, SMM has been instrumental in developing owner-assistance programs, founding hay banks in the area, sponsoring equine health fairs, and educational opportunities for law enforcement. SMM has also taken an active role in reforming the animal neglect and abuse laws in Oregon–a legacy that will live on beyond their local and state circle of influence. As stated in Dynamite's vision, SMM is improving the lives of all creatures.
A family owned company based near Boise, Idaho, Dynamite has been manufacturing and distributing nutritional supplements for all living creatures for 30 years. Their steadfast approach of innovation guided by nature, backed by science has earned them nationwide recognition and familiarity. All walks of life from humans to horses and the soil they graze upon can be supplemented by the wide array of Dynamite products. Dynamite has a long tradition of making charitable contributions.
Dynamite uses only natural ingredients, made in the United States for better quality control. Throughout its history, it has always looked at alternatives to animal by‐products, antibiotics, chemical preservatives, fumigants, artificial coloring and other additives that have later caused health problems.
Dynamite dog food, horse feed, vitamins and nutritional supplements, and other products are available through more than 4,000 individual distributors across the country.
Dynamite's Year of the Horse Project will run through the end of 2014. Dynamite's first quarter Year of the Horse funds recipient was RVR Horse Rescue of Riverview, Florida and their third quarter recipient will be Blue Star Equiculture of Palmer, Massachusetts.
For more information on Dynamite, or to order products visit http://www.dynamitespecialty.com or call their customer service team at 800-697-7434.