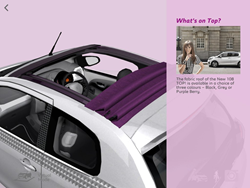 The 'New 108 in 3D' app is the perfect tool to design the perfect car.
(PRWEB UK) 22 August 2014
The 108 is Peugeot's chic and sophisticated new city car, bristling with state-of-the-art technology, so what better way to unlock its potential than with the amazing 'New 108 in 3D' app.

New Peugeot 108 3D App now available to download
Design your own personalised car
Experience it in pop-out virtual reality
Available to download to smartphones and tablets, it allows users to explore every aspect of the 'high-on-style' three and five-door urban runabout, then share favourite designs with family and friends.
With eight vibrant body colours and three roof colours for Peugeot 108 buyers to choose from – plus an appealing range of dashboard designs, exterior decals, theme kits and accessories – the Peugeot 108 takes small car desirability to a new level.
The 'New 108 in 3D' app is the perfect tool to design the perfect car. Featuring more than 5,000 personalisation options to select from, each is brought to life in in playful 3D animation and can be viewed from every exterior and interior angle. Once the New 108 is completed, experience it in pop-out virtual reality.
Use the app to:

Explore the full range of New 108 personalisation options
Rotate the vehicle for a full exterior view of the stylish design and specification
Switch between the New 108 TOP! Cabrio and Hatchback models, with driving animations
Step inside and enjoy a full 360-degree interior view with interactive hotspots to explore
Take a photo of the virtual New 108 and share it with family and friends
Explore the New 108 photo and video gallery
Find a local Peugeot Dealer
Download a New 108 brochure and book a test drive
Peugeot's 'New 108 in 3D' app is free to download and available on the App Store for iOS devices and Google Play for Android devices.
The New Peugeot 108 is on sale now at Peugeot Dealerships. Prices start at £8,245 on the road for the 108 Hatch 1.0-litre Access three-door. Active models begin at £9,495, Allure at £10,995 and Feline at £11,845. The 108 TOP! is priced from £10,345 for the 1.0-litre Active three-door, rising to £12,245 for the 1.2-litre Allure five-door.
-ends-
Notes for editors
Using the 'New 108 in 3D' app in Virtual Mode requires a functioning rear camera.
The app requires iOS 5.0 or later. It is compatible with iPhone 4s, iPhone 5, iPhone 5s, iPhone 5c, iPad (2 and above) and iPod Touch (5th generation).
Peugeot
The Peugeot Brand can trace its roots back to 1810, and it was in 1889 that it began producing automobiles, thus in 2014 it celebrates 125 years of vehicle production with over 60 million sold. Conveyed through its brand signature 'Motion & Emotion', Peugeot is present in 160 countries with some 10,000 Franchised Dealers and recognised for its Excellence, Allure and Emotion.
In 2013 Peugeot sold 1.5m vehicles worldwide, represented in the majority of markets around the world with a strategy to continuously move the Brand up-market.
The UK is currently the 3rd largest market for Peugeot. Recent models in the eight-car line-up that include the expanding 208 range with the emblematic performance GTi and luxurious XY versions, supplemented by the new 2008 Urban Crossover and the new class-leading 308 – 2014 European Car of the Year, available in Hatchback and SW estate body styles. The new 108 – available in Hatchback or 108 Top! Cabrio is the Brand's latest model, introducing new levels of style, technology, efficiency and personalisation to the compact car sector.
Peugeot has a reinvigorated range of high quality products and services that provide and combine a refined design with great attention to detail, and a unique driving experience delivering the satisfaction and emotion identifiable with every Peugeot product.
Peugeot Press Contacts
Andrew Didlick, Communications Director
T: +44 (0)2476 884309 / M: +44 (0) 7836 362859 / E: andrew.didlick(at)peugeot(dot)com
Kevin Jones, Public Relations Manager
T: +44 (0)2476 884215 / M: +44 (0)7880 786596 / E: kevin.jones(at)peugeot(dot)com
Steven Fahey, Public Relations Manager
T: +44 (0)2476 884216 / M: +44 (0) 7748 704219 / E: steven.fahey(at)peugeot(dot)com
Craig Morrow, Press Fleet Coordinator
T: +44 (0)2476 884261 / M: +44 (0)7747 764745 / E: craig.morrow(at)peugeot(dot)com
Janet Brace, Press Office Coordinator
T: +44 (0)2476 884257 / M: +44 (0)7798 607896 / E: janet.brace(at)peugeot(dot)com
For high-resolution downloadable images of the Peugeot product range, information and news stories, log onto the Peugeot Press website: http://www.peugeotpress.co.uk (Newspress passwords apply)
Company websites: http://www.peugeot.co.uk, Mu by Peugeot: http://www.mu.peugeot.co.uk, Rapport Apple App