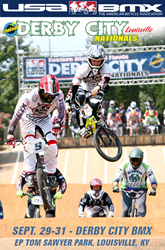 Each year, the economic impact of this BMX race brings millions of dollars to the Louisville economy, and it could not take place without the phenomenal support from the Louisville Sports Commission and Louisville Convention and Visitor's Bureau.
Louisville, KY (PRWEB) August 25, 2014
The legendary Derby City BMX track, located in E.P. Tom Sawyer State Park in Louisville, will be hosting Olympians, professional BMX racers and our Nation's fastest amateur racers this weekend, for the Derby City Nationals. This is the 24th stop in the USA BMX national series - and the 2nd time this year that they have held an event in town.
Competitors from the Olympic Games will be participating as they return from the 2014 BMX World Championships in Holland, ready to chase down points toward the USA BMX No.1 Pro title. Among those in attendance will be the 2-time Men's Olympic Gold medalist Maris Strombergs, who hails from Latvia but now calls Southern California his home. Maris is currently the Pro points leader, and has made 100% of his main events so far this year. Having dangled a Gold medal around his neck in both China 2008 and London 2012, the No.1 Pro title in USA BMX is the only major accomplishment that the former World Champion has not yet achieved.
Strombergs' biggest obstacle - other than the super fast, jump-infested Derby City track, is 2012 Olympic silver medalist and reigning USA BMX No.1 champ Sam Willoughby. So far this year, Sam has won 5 of the 9 mains events he has raced - and is determined to earn his third straight No.1 title.
Along with top Pros and Olympians, there are expected to be well over 1,400 amateur entries - ranging in age from 2 to 70-plus, from over 34 states. They will be competing for the day's awards, as well as points, on Friday, Saturday and Sunday.
Saturday's racing will kick off at 11:30, with the Strider "push" bike class - filled with 2, 3, and 4 year olds, before going into Pro and amateur racing. At the other end of the spectrum, there will be plenty of parents (and even some grandparents) competing in the larger-wheeled classes for 30, 40, 50 and 60+ year olds. This is a big part of what makes BMX racing a true Family sport - where moms and dads get to participate along with their children.
BMX is truly a sport for the entire family - where mom and dads are allowed to compete, along with their sons and daughters. A perfect example of this is the Bohne family, from Louisville. Father Keith not only races, but is a board member for Derby City BMX, while wife Laura is the acting treasurer for the club. Their three kids - 16 year old Eva, 13 year old Dare and 10 year old Egan all race every week and are expected to score some big trophies this weekend.
Ashley Lutz, a BMX mom of two and top contender in the 35-40 year old women's cruiser class, is another Louisville local to watch out for, as she will be a favorite to take the win in her division.
Established in the early 80's, this is the 30th straight year that Derby City BMX has hosted a major BMX event. Each year, the economic impact of this large-scale BMX event brings millions of dollars to the Louisville economy, and it could not take place without the phenomenal support from the Louisville Sports Commission and Louisville Convention and Visitor's Bureau.
DERBY CITY NATIONAL SCHEDULE:
The USA BMX Derby City Nationals begin this Friday - August 29th and go thru Sunday, August 31st at the Derby City BMX track located at 3000 Freys Hill Rd., Louisville, KY 40241.
SPECTATING IS FREE - all weekend.
*There is a parking fee to spectators, to support the local track.
FRIDAY: Practice throughout the afternoon and racing beginning at 1:30pm.
SATURDAY: Practice continues in the morning and National racing kicks off promptly at 11:30am with Strider (balance bike) racing for 2, 3 and 4 year olds, followed by the first rounds of Pro racing.
SUNDAY: Starts at 8:00am, with the main events starting at approximately at 12 noon.
ABOUT BMX RACING: Up to eight riders speed down the starting hill, maneuvering over dirt obstacles and around banked turns in hopes of winning a 4-foot tall first place trophy. On average, each race is a 35 second sprint, with full contact, close-knit racing and sometimes thrilling crashes and victories. The Olympic sport of BMX Racing is exciting to watch for all ages! BMX Racing is a sport for boys and girls of all ages - from 2 to 76, with three skill levels per age. In BMX, nobody sits on the bench.
###
ABOUT THE DERBY CITY BMX TRACK: Located inside E.P. Tom Sawyer State Park - at 3000 Freys Hill Rd., Louisville, KY 40241. The Derby City BMX venue is one of the premiere BMX facilities in the country and has consistently hosted a national caliber event since 1984.
From March to November, local riders can race at the track on Mondays, Wednesdays and Saturdays. For exact dates and times, visit http://www.usabmx.com/tracks/1879, or phone 502-777-6587.
ABOUT USA BMX: The American Bicycle Association (ABA) was formed in 1977 and is headquartered in Gilbert, Arizona. USA BMX organizes BMX racing for boys, girls and adults, throughout the United States, Canada, and Puerto Rico. With over 70,000 active members who compete on a weekly basis at over 370 racing facilities in 49 states, the Olympic sport of BMX Racing continues to grow. With a 29 event race schedule, USA BMX is the largest promoter of action sports in the country.