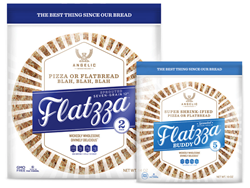 "Flatzza™ Buddy is a fun, great-tasting crust that enables a guilt-free pizza night. Who doesn't love that?" - Jenny Marino, President & CEO of Angelic Bakehouse
Cudahy, Wisconsin (PRWEB) August 26, 2014
Angelic Bakehouse, a leading producer of sprouted whole grain breads, buns, flatbreads and pizza crusts, continues its rapid expansion with the addition of the Flatzza™ Buddy, a smaller version of the company's ready-made, sprouted whole grain Flatzza™ crusts.
"Today's consumers are better educated when it comes to food. They want to know where their food is coming from and what's in it. We continue to prove that clean and healthy doesn't have to be boring," said Jenny Marino, President and CEO of Angelic Bakehouse. "Flatzza™ Buddy is a fun, great-tasting crust that enables a guilt-free pizza night. Who doesn't love that?"
Sprouted whole grain products continue to see an increase in popularity with both mainstream and health-conscious consumers due to superior nutritional benefits, a low glycemic index, higher protein values and its ease of digestion relative to products made with traditional flour.
"There is a growing demand for products like ours," said Marino, "and as that demand grows, so does the demand for variety. When we released Flatzza™ earlier this year, we received immediate requests for a smaller version and responded quickly with Flatzza™ Buddy."
Angelic Bakehouse Flatzza™ crusts are currently available at Sprouts Farmers Markets nationwide and Whole Foods Markets in select regions. The Flatzza™ Buddy five pack will start hitting shelves this week at local and regional chains and is due to hit shelves at several national retailers later this year.
About Angelic Bakehouse
Angelic Bakehouse is one of a handful of companies in the United States that uses freshly ground sprouted grains – whole grains in their purest form – to create natural baked goods that truly taste great. Gone are the days of cardboard texture or bitter whole wheat aftertaste that consumers often find with good-for-you fare. Pure ingredients. Pure products. Pure quality. That's what you can expect from Angelic Bakehouse. To find out more, or for Angelic Bakehouse retailers near you, visit http://www.AngelicBakehouse.com or follow along on Facebook.com/AngelicBakehouse and Twitter.com/AngelicBakehse.