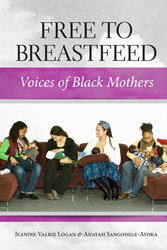 The narrative is that Black women don't breastfeed but rarely is the narrative actually from Blackwomen.
Amarillo, Texas (PRWEB) August 26, 2014
In the United States, August is recognized as National Breastfeeding Month with most celebrations occurring during the beginning of the month. In 2013 the first annual Black Breastfeeding Week was celebrated at the end of August with the intent to celebrate the specific challenges that African American mothers and babies face. The event will take place again this year with a new theme "Black Families Rock," and a series of interactive online events planned for the week. Praeclarus Press authors of Free to Breastfeed, Anayah R. Sangodele-Ayoka and Jeanine Valrie Logan will also be will be participating with book giveaways on the Free to Breastfeed Facebook page as well as the Black Breastfeeding Week Facebook page.
Free to Breastfeed: Voices from Black Mothers outpaces other books on the topic because it gives privilege to actual women. There is no other book available that can give a new or expectant mother the experience of seeing her experience reflected in the stories and pictures of other women. While there is growing coverage to the disparities in breastfeeding rates, the actual thoughts and experiences of African-American nursing mothers are overlooked. It is precisely these first-hand experiences that breastfeeding mothers seek from other women.
The Black mothers at the forefront of this very movement offer praise for the book. "Free to Breastfeed is a powerful, much-needed resource to dispel myths and stereotypes about black women and breastfeeding. Anayah and Jeanine have created an amazing compilation of personal narratives that is sure to positively impact perceptions and cultural norms around breastfeeding," writes Kimberly Seals-Allers, an acclaimed journalist and author of the Mocha Manual series. Kimarie Bugg MSN, MPH, CLC, CEO and Change Leader, Reaching Our Sisters Everywhere, Inc. (ROSE) states, "I applaud Anayah and Jeanine for bringing these compassionate community voices to life. We must learn to listen to our own stories and those of others. We must also have the courage to accept that we are the change for which we have been waiting."
Jeanine Valrie Logan is a birthworker, homebirth mama, nursing student, and future midwife. Jeanine received her B.A. from Fisk University, and an M.P.H. from George Washington University. She has worked for reproductive justice organizations in South Africa, DC, and Chicago. Jeanine lives in Chicago with her husband and daughter.
Anayah R. Sangodele-Ayoka writes and speaks about breastfeeding, maternal health and personal empowerment. She also develops campaigns to promote breastfeeding-friendly communities through policy and public awareness campaigns with MomsRising.org, including Black Breastfeeding Week. Anayah writes for the corresponding blog (http://www.freetobreastfeed.com). She earned a B.A. from Vassar College and is currently a student in the Midwifery/Women's Health Nurse Practitioner program at Yale University School of Nursing. She is married with two children.
Praeclarus Press is a small press specializing in women's health located in Amarillo, Texas. It was founded by health psychologist, Kathleen Kendall-Tackett, Ph.D., IBCLC, FAPA, and produces books, webinars, and other materials on all aspects of women's health. The mission of Praeclarus Press is to produce materials that change women's lives.