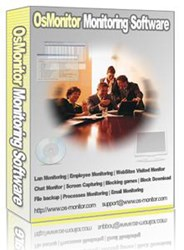 (PRWEB) August 22, 2014
Os-Monitor.com, an outstanding online supplier of useful software programs, has unveiled its new employee monitoring software collection (http://www.os-monitor.com). In addition to that, the company has also announced that all these high end items are offered with greatly discounted prices.
With the tendency of improving productivity, the employers pay more attention to their employees' working efficiency than before. Thus, employee and network monitoring software products are becoming more and more popular in the current market. Os-Monitor.com is here to help. All the company's brand new items are carefully created by top experts in the industry.
The company has updated the product line with the latest information about its new products. All people can obtain the low prices before August 31, 2014. All its monitoring products are promised to be user-friendly; that brings a lot of convenience for the busy employers.
"I take pride in our new employee monitoring software collection (http://www.os-monitor.com/download.htm). I think clients from all over the world will like these useful items. As a leading company that focusing on offering high end software programs, Os-Monitor.com is always making full efforts to provide the best items. Those who are in need of affordable employee monitoring software can visit our website now," the company's senior spokesman says.
About Os-Monitor.com
Os-monitor.com is a website platform owned by Wangya Computer Co., Ltd, which was established in the year 2006. The company specializes in developing different kinds of useful monitoring software programs. It has its own development offices based in Asia. The company's practical employee monitoring software products are very popular in the market. For more detailed information about its products and services, readers can visit its one stop website.