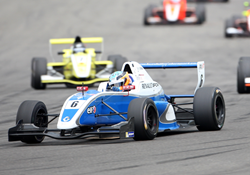 Improving our qualifying performance is the absolute priority for Most...we've made too much hard work for ourselves so far this season
(PRWEB UK) 22 August 2014
Kent's Raoul Owens returns to action next weekend, 30th/31st August, when the Formula Renault 2.0 Northern European Cup visits the Czech Republic for the final triple-header event of the 2014 season at Autodrom Most.
As one of the quickest drivers in the ultra-competitive NEC championship, the 19-year-old from Pembury has been somewhat exasperated thus far due to a myriad of unfortunate troubles, and contact not of his making, hampering his points total and podium finishing potential.
On more than one occasion this year Raoul has been in a position to battle it out for silverware, but has had those hopes dashed through no fault of his own. With only two events now remaining in the current campaign, the Bright Spark Ventures-supported driver is determined to mount a sustained podium challenge at Most and also during the September finale at the Nurburgring in Germany.
Qualifying is one of the areas Raoul is putting the most focus on for next weekend as, during the previous rounds at Assen in The Netherlands, lower than anticipated grid positions masked his genuine pace. Proof of that was the fact the British teenager lapped with pace good enough to finish in the top two.
"We've had a good break since Assen so now I'm really looking forward to being back in the car and, hopefully, putting together a great finish to the season", he commented, "All year we've had really good race pace, that's never been in doubt, but too often qualifying hasn't gone well or we've been caught-up in problems not of our making.
"Improving our qualifying performance is the absolute priority for Most next weekend, we've made too much hard work for ourselves so far this season by starting races further down the grid than we should be. If we get that right, which we need to, there's no reason we can't battle for the podium."
During the corresponding fixture last season, his first year at European level, the Mark Burdett Motorsport racer showed impressive consistency and rounded off his first ever visit to the Czech Republic with a pair of ninth place results.
For his second visit to Most, nothing less than a front-running challenge will satisfy Raoul so he aims to make the most of the test sessions on Thursday, 28th August, and Friday, 29th August, to unlock the maximum performance from his car.
Qualifying at Most will begin at 10.50 (UK time) on Saturday, 30th August, with the second session following at 11.15 (UK time) and round 12 starting at 14.20 (UK time). Rounds 13 and 14 will both be contested on Sunday, 31st August, at 08.30 (UK time) and 14.10 (UK time) respectively.
Provisional 2014 Formula Renault 2.0 Northern European Cup Standings (after Rd11):
13th Raoul Owens, 79pts
ENDS
Note to editors: Copyright free images of Raoul Owens attached for editorial use; please credit Insight F1 Motorsport Report where used.
Website: http://www.raoulowens.com
Facebook: http://www.facebook.com/RaoulOwensRacing
Twitter: @raoul_owens
Media Contact:
Marc Orme
Tel: +44 (0)7920 886985
Email: marc(at)marc-orme(dot)co(dot)uk / marcorme1(at)aol(dot)com