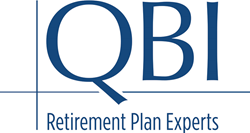 We have a strong and talented leader to help assure we provide the best service and relationship value we can as we expand our business profile. We're excited to welcome Risë to our team. Nick Stonnington, President and Chief Executive Officer of QBI
Woodland Hills, CA (PRWEB) August 25, 2014
QBI, a leading provider of administration and consulting services for qualified retirement plans, announced the hire of Risë Spiegel as the company's new Chief Operating Officer.
Risë complements QBI's leadership team with her twenty years of operations and business development experience earned with Union Bank, Transamerica Life, Fidelity, and John Hancock.
In her new role, Rise will lead QBI's operations team of more than 70 industry professionals who service more than 3,000 retirement plans. She will also be instrumental in helping spearhead the company's business development plans that leverage strategic relationships with advisors, brokers, CPAs, and other referral partners.
Nick Stonnington, President and Chief Executive Officer of QBI welcomed Risë with this thought: "Risë's experience and extraordinary skill in guiding people and processes will really help us accelerate our growth. We have a strong and talented leader to help assure we provide the best service and relationship value we can as we expand our business profile. We're excited to welcome Risë to our team."
Risë Spiegel is based in Woodland Hills, CA. Reach her at (818) 449-6104 or RiseS(at)qbillc(dot)com.
About QBI, LLC
Founded in 1974, QBI, LLC, is the largest retirement plan administration and consulting firm in Southern California serving more than 3,000 clients. QBI supports investment professionals and their clients with expert design and administration of 401(k), 403(b), Defined Benefit / Cash Balance, and ESOP plans. For more information, visit http://www.qbillc.com.