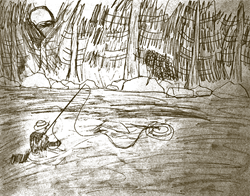 A silent, live and online auction will be available with items such as an exclusive retreat in New Zealand.
St. Andrews, New Brunswick (PRWEB) August 22, 2014
The Atlantic Salmon Federation (ASF) is gearing up for the annual fall run of North American fundraising dinners. Every year, the dinners represent a significant portion of ASF fundraising efforts with monies raised going to support the restoration and protection of wild Atlantic salmon. This year is of particular importance however, with poor Atlantic salmon returns being reported in many North American rivers.
This fall, dinners will be held in St. John's (Newfoundland), Saint John (New Brunswick), Montreal, and Ottawa in Canada and Chicago and New York in the United States. Event organizers say each dinner will host both a silent and a live auction with some once-in-a-lifetime opportunities for bidders.
"At the Ottawa dinner on October 8, we have up for bid an opportunity for ten people to dine at the residence of the Ambassador of Portugal in Canada," says Natasha England, ASF's Manager of Special Events. "As a guest of his Excellency Pedro Luis Baptista Moitinho de Almeida, the dinner party will enjoy some delicacies of Portugal. Also up for bid, is a salmon fishing trip in Iceland for two anglers for six full days on the Jokla and Breiddalsa rivers. At the Montreal dinner, 'Hockey Night in Montreal' will be up for bid which will include 4 tickets to a 2014-2015 Montreal Canadiens home game with seats located directly behind the Habs bench."
Also featured this year, will be new art work from 13-year-old Carson J. Becker of Harpswell, Maine, winner of ASF's recent Young Artists for Conservation contest. Carson's winning drawing will be featured on all dinner invitations and will be etched on new collectable glasses which, according to England, are "highly sought after by anglers."
The fall run will conclude with ASF's largest fundraising dinner in New York at The Plaza. A silent, live and online auction will be available with items such as an exclusive retreat in New Zealand which includes four nights of accommodation for two at the winning bidder's choice of two properties from Kauri Cliffs, Cape Kidnappers or Matakauri Lodge in New Zealand.
For more information on any of the ASF dinners, please visit: http://www.asf.ca/events.
Chicago, IL~ Tuesday September 23rd ~ The Racquet Club
Montreal, PQ ~ Wednesday September 24th~ Le Windsor
Ottawa, ON ~ Wednesday October 8th~The Canadian Museum of History
St. John's, NL~ Thursday October 23rd~ The Capital Hotel
Saint John, NB ~Wednesday October 29th~The Delta Brunswick
New York, NY ~ Wednesday November 12th ~ The Plaza ~Honoree Joseph R. Perella
The Atlantic Salmon Federation is dedicated to the conservation, protection and restoration of wild Atlantic salmon and the ecosystems on which their well-being and survival depend. ASF has a network of seven regional councils (New Brunswick, Nova Scotia, Newfoundland and Labrador, Prince Edward Island, Quebec, Maine and Western New England). The regional councils cover the freshwater range of the Atlantic salmon in Canada and the United States.
ASF Contact: Holly Johnson, Manager of Public Information: (506)529-1033(o)
(506)469-1033(c), HJohnson(at)asf(dot)ca
To view this story online, visit: http://asf.ca/poorer-than-usual-returns-intensify-wild-atlantic-salmon-co.html.
Join us on facebook: https://www.facebook.com/AtlanticSalmonFederation Twitter: https://twitter.com/SalmonNews.
For high-resolution photography, please visit: the ASF Image Gallery: http://www.asf.ca/images.html.