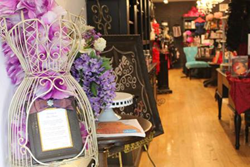 Our mission is to provide an elegant and relaxed environment with the educational resources necessary for people to take charge of their sexuality.
Alexandria, VA (PRWEB) August 27, 2014
Lotus Blooms a locally owned and operated business specializing in sexual health and education, adult toys, lingerie and corsets, announces their sponsorship of the 2014 Woodhull's Sexual Freedom Summit on August 14-17, 2014 at the Alexandria Hilton Mark Center.
Now in its 5th year, this conference is focused on sexual freedom as a fundamental human right in the United States while in pursuit of the goal of the sexual freedom movement: global recognition of our fundamental human right to sexual freedom. Registration is open to the public.
"We are so ecstatic to be a sponsor and partner of this event being held in our own back yard," said Lotus Blooms' Manager, Cass Mercer. "Our years of expertise in this arena, both on a local and national scale, allows us to participate in this event's sharing of information, experiences, and strategies to use in the fight for human rights and sexual freedom."
Lotus Blooms, found at 1017 King Street in beautiful and historic Old Town Alexandria, Virginia provides an elegant, relaxed, classy environment with the educational resources necessary for people to take charge of their sexuality. Their environment enhances body positivity and fosters creativity in sexual expression. Lotus Blooms nurtures a sex-positive mindset that will keep bodies and souls healthy, happy, and fulfilled.
For more information about the 2014 Woodhull Summit, visit http://www.sexualfreedomsummit.org/.
To shop or for more information about Lotus Blooms, visit http://www.lotusbloomsalexandria.com/ or call 703-535-8225.
About Lotus Blooms:
Lotus Blooms is founded on the principles of healthy sexuality, relationships and empowerment. We exist to fill the need for a safe space where adults from all ages can obtain body safe products, materials, information, accessories, and attire that will appeal to a wide variety of sexual interests and fantasies.
Our talented and educated staff carefully reviews each potential product to ensure its body safety prior to offering it at our store. This staff is comprised of Certified Sex Educators and Social Workers with multiple degrees. We believe a key component of a happy, healthy sex life is education. Through both one on one interactions with clients and our Educational Classes, we offer unique, informative, and inspiring education to our community.