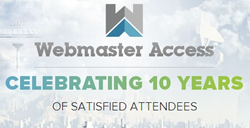 Barcelona, Spain (PRWEB) August 25, 2014
ExoClick, the world's #1 ad network for the entertainment market, is pleased to announce that the company is a Platinum sponsor at the 10th Webmaster Access show to be held in Amsterdam, 19-22 September 2014.
ExoClick's sales team will be attending the event and the company's Head of Business Development Peter Rabenseifner will be a guest on the discussion panel "Ad Networks - Effective Advertising in Social Media" on Saturday, Sept 20th at 1pm. As part of the sponsorship package ExoClick will be one of the sponsors of the Webmaster Access 10th Anniversary Party to be celebrated on Friday 19th at Warehouse in Elementenstraat.
ExoClick CEO and founder, Benjamin Fonzé, commented, "Webmaster Access is a fantastic event for networking and deal brokering and we are very proud to be one of the sponsors as the show celebrates a decade of success."
The ExoClick sales team will also be attending The European Summit in Prague which follows immediately after Webmaster Access. ExoClick is a Supersized sponsor at the Prague event.
Giles Hirst
press(at)exoclick(dot)com
http://www.exoclick.com
+34 931810272
About EXOCLICK
Launched in 2006 and based in Barcelona, Spain, ExoClick is an innovative global ad network serving 125+ billion geo-targeted ads a month to web and mobile advertiser/publisher platforms via its proprietary software.
Founded by current CEO Benjamin Fonzé, ExoClick is now ranked as the 5th largest ad network in the world by W3Techs and the #1 ad network for the entertainment market. The Company has been ranked twice in the Deloitte Fast 500 and has also received several industry nominations for its business excellence including winning Traffic Services Company of the Year 2013 by XBIZ.