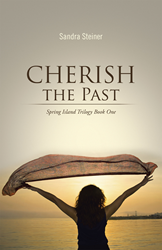 I believe in focusing on the positives in life.
Victoria, Canada (PRWEB) August 26, 2014
Sandra Steiner has suffered loss in the passing of her daughter and the loss of love. Throughout her life she has sacrificed to become the strong and inspirational author that she is today.
In her new "Spring Island Trilogy", book one "Cherish the Past" takes readers through a whirlwind of struggle, loss and sacrifice in love and relationships. When the protagonist, Angie, loses her child, her husband leaves shortly after. Angie could easily give up, but instead finds strength and hope on Spring Island where she lives her life to the fullest.
"The past makes us stronger and prepares us for the future," Steiner said. "This book is a reminder to cherish the memories of the past."
Steiner uses her experiences as a basis for her book, which gives hope to those who have shared similar incidents. With her positive outlook on life, she is proof that love and life can be great even after loss and sacrifice.
"I believe in focusing on the positives in life," Steiner said. "I choose to use my life experiences as a tool to help others."
For more information, visit http://www.sandrasteiner.com.
"Cherish the Past: Spring Island Trilogy Book One"
By Sandra Steiner
ISBN: 978-1-49073-841-3
Available in softcover, hardcover, e-book
Available on Amazon, Barnes & Noble and Trafford
About the Author
Sandra Steiner holds a bachelor's degree in education. For the last 20 years she has been working in the accounting field. Since the death of her teenage daughter in 2004, she has inspired positive thinking for many through her writing and sharing of her experiences. Along with this book, Steiner is the author of book two of the Spring Island Trilogy, "Live for Today."