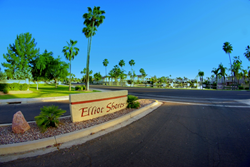 We have been managing their master association, The Islands, for many years now and we are excited to have the opportunity to enhance the lives of the residents within this lovely sub-association
Scottsdale, AZ (PRWEB) August 26, 2014
FirstService Residential, the leading community management company in Arizona, today announces being selected to provide HOA management services for The Islands Patio Homes Community Association. The community is located in Gilbert, Arizona and consists of 135 garden style homes. FirstService Residential assumes management responsibilities on September 1, 2014.
"FirstService Residential is proud to now be managing the Elliot Shores community. We have been managing their master association, The Islands, for many years now and we are excited to have the opportunity to enhance the lives of the residents within this lovely sub-association," said Jason Proudfit, FirstService Residential Arizona President.
The Elliot Shores community is a sub-association of The Islands master-planned community located near Elliot Road and McQueen Road in Gilbert. The community features a community pool and walking trails for residents to enjoy.
FirstService Residential provides full-service community management solutions to a wide range of homeowner and condominium associations including some of Arizona's most beautiful and recognizable communities. Since 1968, its team has worked hard to serve the homeowners of Arizona, and today, the company is recognized as the leading HOA management company throughout the state. FirstService Residential has been selected as Arizona's top choice of HOA management companies by Ranking Arizona for eight consecutive years.
About FirstService Residential
FirstService Residential is a subsidiary of FirstService Corporation, a global leader in the rapidly growing real estate services sector, one of the largest markets in the world. As a leading property management company in North America, FirstService Residential oversees more than 6,500 residential and commercial associations including 1.5 million residential units and over 50 million square feet of commercial space across 21 U.S. states and three provinces in Canada. The company has more than 12,000 employees driving local market expertise and manages in excess of $6 billion in annual budgets. For more information, visit http://www.fsresidential.com.
###