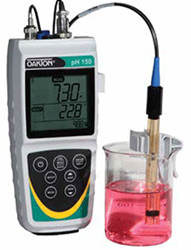 Vernon Hills, Ill. (PRWEB) August 25, 2014
The new Oakton® Waterproof pH 150 and CON 150 meters enter the market as a low-cost option, yet provide competitive functionality.
Both the pH meter and the conductivity meter offer at-a-glance readings on a large, three-line LCD, which also stores up to 150 measurements along with temperature. While the built-in memory offers convenience, the calibration alarm never leaves the user guessing when it's time to recalibrate.
With automatic temperature compensation (ATC), temperatures do not influence readings—providing more accurate results. Both Celsius and Fahrenheit scales are available to best fit the application. Electrode status displays pH slope or cell constant directly—not with a confusing icon.
The Oakton Waterproof pH 150 meter offers six-point pH calibration with the user's choice of USA, NIST, or DIN buffer sets. Auto buffer recognition automatically identifies the correct pH buffer or rapid calibration. The Oakton Waterproof CON 150 meter features autoranging across five ranges for fast response and best resolution over a wide range. Auto-cal provides one calibration point per each conductivity range, offering ±1% full-scale accuracy. Adjustable conductivity-to-TDS conversion factor is from 0.4 to 1.0.
Both meters have built-in stands for hands-free operation or can be wall-mounted. For more information on these rugged and reliable meters, call 1-888-4Oakton or visit 4oakton.com/new.asp.
Oakton Instruments sets the standard again and again with scientific products for research, industrial, and educational uses. Through a unique combination of innovative design and exceptional value, Oakton Instruments strives to represent the best buys in pocket, handheld, and benchtop water quality and temperature instruments. For more information, contact Oakton Instruments, P.O. Box 5136, Vernon Hills, IL 60061. Phone 1-888-4OAKTON, e-mail info(at)4oakton(dot)com, or visit http://www.4oakton.com.