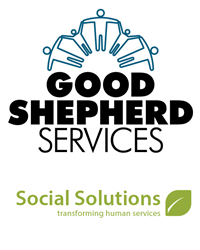 This study is providing important evidence around work we do through the Chelsea Foyer program, providing former foster youth with housing and supportive services to help them move into adulthood.
New York, Baltimore (PRWEB) August 26, 2014
Social Solutions Global, Inc., the leading provider of performance management software for human service organizations, is celebrating their client Good Shepherd Services' (GSS) achievement of positive outcomes for homeless and transitioning foster youth revealed in the preliminary results of an outcomes study by the Center for Innovation through Data Intelligence (CIDI).
The study examined outcomes of youth served by GSS's Chelsea Foyer at the Christopher, a trauma-informed model for supportive housing that serves 40 young adults between the ages of 18-25 years who are aging out of foster care, homeless, and/or at risk of becoming homeless. The first report from this multi-phase study, generously supported by the Larson Family Foundation, found that when Chelsea Foyer participant outcomes were compared with a group that did not receive supportive housing, Foyer participants had significantly lower rates of shelter use and jail stays than the comparison group. Controlling for external factors, Chelsea Foyer participants were 36% less likely to have a stay in the single adult shelter system and 55% less likely to go to jail.
"This study is providing important evidence around work we do through the Chelsea Foyer program, providing former foster youth with housing and supportive services to help them move into adulthood. The programmatic implications, as well as the potential for opening a dialogue around developing and replicating young adult housing models across the country, are very exciting," said Denise Hinds, Associate Executive Director of Child Welfare, Juvenile Justice and Housing at Good Shepherd Services.
The CIDI report states the study exemplifies how administrative data can be used to track participant outcomes. Good Shepherd Services, which has had a long-time commitment to high performance and evidence-based practice, uses Social Solutions' Efforts to Outcomes (ETO®) software to collect and analyze participant data for several of its programs.
"Good Shepherd Services is an exemplar of high performance, not only in services for former foster youth, but in the nonprofit sector as a whole. It is no surprise to us that this research has found positive results for the youth Good Shepherd Services supports. They consistently demonstrate how to successfully use client data to inform service delivery and achieve positive outcomes for the youth and families they serve," said Scott Johnson, CEO of Social Solutions. "We applaud Good Shepherd Services for the great work they are doing and are proud to celebrate this success with them."
On September 4, 2014, Social Solutions will host "Good Shepherd Services: Improving Outcomes with the Sanctuary Model of Trauma-Informed Care," a webinar featuring Good Shepherd Services staff and the co-creator of the Sanctuary Model, Dr. Sandra L. Bloom. During the webinar, the presenters will discuss what it takes to bring the model to life, and the benefits it has had for young people across Good Shepherd Services' Foster Care, Youth Justice, and Supportive Housing programs. Click here to register for the webinar.
Good Shepherd Services goes where children, youth, and families face the greatest challenges and builds on their strengths to help them gain skills for success. We provide quality, effective services that deepen connections between family members, within schools, and among neighbors. We work closely with community leaders to advocate on behalf of our participants to make New York City a better place to live and work. We are a recognized leader in the development of innovative programs that make a difference in the lives of children, youth and families and the winner of the inaugural 2007 New York Community Trust Non-Profit Excellence Award for overall management excellence. Each year, we work with more than 26,000 New Yorkers through over 80 programs in the Bronx, Brooklyn and Manhattan which include networks of school-based support, youth justice, and family service programs in Brooklyn and the Bronx; group homes for adolescents; and foster care and adoption services. http://www.goodshepherds.org.
Social Solutions Global, Inc. creators of Efforts to Outcomes (ETO®) software, equips over 16,000 programs with web-based data-tracking and outcomes-oriented case management tools to improve results, simplify reporting requirements and improve efficiencies in delivering services across agencies and funding streams. Unlike traditional CRM and Case Management tools, ETO software was designed to help agencies improve outcomes by identifying and scaling effective programs. The ETO platform is flexible enough to be uniquely configured based on service population and evidence-based practices models, without the need for custom development to make changes to the software as your organization continues to evolve. More information: http://www.socialsolutions.com. Follow us on Twitter: @SocialSolutions.