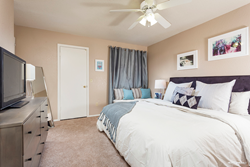 '...There was no question that she deserved this makeover. And we were honored to make it happen.'
(PRWEB) August 26, 2014
The National Military Family Association, a nonprofit that works to strengthen and protect military families, and Laurel & Wolf, a firm that works to make interior design affordable and fun, are excited to announce the winner of their Spouse Love Master Bedroom Makeover Contest.
The contest began as part of Military Spouse Appreciation Day, which is the Friday before Mother's Day. Service members submitted stories about their spouses and why they deserved the makeover. The prize was a room re-design plan, to include some of the pieces for the new bedroom. However, Laurel & Wolf designers were so moved by the winner's story that they decided to spring for the whole makeover.
"We read so many inspiring stories that we didn't know how to choose," said Leura Spielman, CEO of Laurel & Wolf. "But when we saw what Dustin wrote about Tanya, there was no question that she deserved this makeover. And we were honored to make it happen."
Dustin Abbas, a Soldier in the U.S. Army, suffered a traumatic brain injury during his tour in Iraq. He nominated his wife, Tanya, for holding down the household during deployments, and then taking care of him as they get used to their "new normal" in the aftermath of his injury. Tanya was surprised and moved by her husband's words.
"I was just being your wife," said Tanya. "I was just doing what wives do."
The National Military Family Association's slogan, "together we're stronger" speaks to the fact that military members do not serve alone.
"We always want to remind people that military spouses serve, too," said Executive Director Joyce Raezer. "This was the perfect way to honor a deserving spouse by giving them something special, just for them. And something they likely wouldn't take the time to do for themselves."
To see the master bedroom makeover, and Tanya and Dustin's full story, click here: http://vimeo.com/102355183.
Products for the makeover were donated by Lamps.com, Tappan Collective, Parachute Home and Handybook.
About the National Military Family Association
Military families serve our country with pride, honor, and quiet dedication. The National Military Family Association is the leading nonprofit organization committed to strengthening and protecting the families of the men and women currently serving, retired, wounded or fallen. We provide families of the Army, Navy, Marine Corps, Air Force, Coast Guard, and Commissioned Corps of the USPHS and NOAA with information, work to get them the benefits they deserve, and offer programs that improve their lives. Our 44 years of service and accomplishments have made us a trusted resource for military families and the Nation's leaders. To learn more, visit http://www.MilitaryFamily.org.
About Laurel & Wolf
Laurel & Wolf is the world's leading online interior design marketplace, providing online interior design services for residential and commercial spaces all over the US. Laurel & Wolf uses an online platform for users to create a room profile, pay a one-time flat fee and receive designs from multiple professional interior designers. All the designs consider the client's overall budget and how the space should function. Clients walk away with a style board, furniture plan, instructions from the designer, and a shopping list! Founded by the lead designer of Los Angeles' most prestigious interior design firm and a successful tech entrepreneur, Laurel & Wolf is making professional interior design accessible and affordable for everyone. Laurel & Wolf believes in the power of great design and how it can transform the way we live, work, and love! For more information, please visit http://www.laurelandwolf.com.