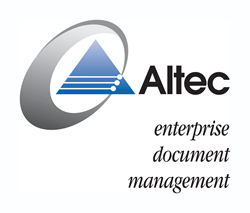 Laguna Hills, CA (PRWEB) August 26, 2014
Altec Products, Inc., a leader in enterprise document management and workflow solutions, announced today its participation in nVerge 2014—an upcoming, one-day technology conference in San Diego, CA.
nVerge 2014 focuses on the latest trends and feature updates for Microsoft Dynamics GP, Dynamics CRM, Dynamics Marketing, Office 365, Microsoft SharePoint, Business Intelligence, Corporate Performance Management (CPM) solutions, third party applications for the Microsoft Dynamics product line, hosting services, hardware solutions and Managed IT Services.
At nVerge 2014, Altec will be showcasing its document management solution doc-link. Tightly integrated to Microsoft Dynamics ERP systems, doc-link is Certified for Microsoft Dynamics GP (CfMD) and allows companies to bring control to existing workflow and effectively eliminate the need to copy and file paper documents.
Altec has provided paperless solutions to Microsoft Dynamics users for more than 14 years and will be speaking during the 2:00 PM – 3:00 PM breakout session.
The one-day conference offers a combination of keynote and breakout sessions; presentations by premiere San Diego businesses featuring actual business cases, ongoing learning labs, exhibition with IT service providers and independent software vendors; networking sessions; breakfast; lunch featuring a special presentation by Dale Carnegie of San Diego and a post conference cocktail reception that offers a great opportunity to mingle and share insights with other professionals. Visit http://www.nVerge2014.com for the complete agenda.
The exhibitors and sponsors at nVerge 2014 include AdvTrex, Altec, Avalara, Binary Stream, ClickDimensions, Dell, Greenshades Software, Myappsanywhere, Nodus Technologies, Professional Advantage, Prophix, RedTail Solutions, ReQlogic, Scribe Software, SkillStorm and Varonis. Learn more about the sponsors at http://www.nVerge2014.com.
"Our goal with nVerge 2014 is to focus on showcasing innovative and cost-effective business management solutions, tools and ideas that empower users and help businesses improve their critical business processes. In addition to showcasing Microsoft's Business Solutions, nVerge 2014 focuses on select, third party software applications such as Altec's doc-link, designed to enhance the value and functionality of the Microsoft Dynamics product line," says Eric Casazza, CEO of FMT Consultants, and adds, "Altec is one of our trusted and longstanding partners, and we're excited to have them as part of the nVerge 2014 conference program."
nVerge 2014 takes place on Thursday, September 25th, 7:30 AM – 5:30 PM at San Diego Marriott Del Mar.
For more information and registration, visit http://www.nVerge2014.com or contact Jakob Bechgaard at jbechgaard(at)fmtconsultants(dot)com or 760.930.6400.
nVerge 2014 is hosted by FMT Consultants and is targeted at C-level executives, business owners, managers and end-users.
About Altec
Altec is a leading provider of Integrated Document Management (IDM) solutions to mid-market companies. For more than 25 years, Altec has provided a wide range of accounting-centric paper to paperless solutions including its flagship product, doc-link™, which enables companies to capture, archive, workflow and route structured and unstructured documents to customers, employees and vendors. Altec's comprehensive solutions include IDM, output management, MICR check disbursement and paper documents that serve more than 13,000 customers worldwide. Altec enjoys strong, collaborative partnerships with ERP solution providers like Microsoft Dynamics to provide the most comprehensive, integrated enterprise document management solution. Altec delivers its IDM solutions through a global network of authorized partners in more than 60 countries throughout the Americas, EMEA and Asia Pacific. For more information, visit Altec at the company website at http://www.altec-inc.com. Follow them on Twitter.com/doclinkbyAltec or call April Blankenship at 1-800-997-9921.
About FMT Consultants
FMT is a leading provider of integrated business solutions and information technology services throughout the US and Canada with a significant presence in San Diego County, Los Angeles County, and Orange County. Since 1995, FMT's experienced team of experts has been partnering with clients to help them optimize the return on their technology investments. The company is headquartered in Carlsbad, CA and recently expanded into the Los Angeles market with the opening of a new office. Visit http://www.fmtconsultants.com or call (760) 930.6400 for more information.
# # #