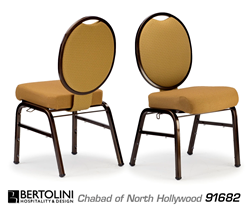 It was a pleasure working with Chabad of North Hollywood- always pleasant and professional. They knew from the beginning that they wanted elegance and the Bertolini chair they selected has a touch of elegance like no other, says Carol Brown
Chino, CA (PRWEB) September 05, 2014
Bertolini Sanctuary® Seating offers a large selection of superior USA built church, banquet, auditorium, classroom chairs and many other quality products. Their commitment to excellence shows in all of their products. From the quality of the materials they use, their innovative assembly techniques and rigorous testing process, the best church seating goes directly from them to the customer. With over 50 years of experience, the family-owned business has provided high-quality premium church seating to a variety of churches and companies.
Most recently, Bertolini Sanctuary® Seating had the greatest opportunity to manufacture and custom build the Postureflex chairs for Chabad of North Hollywood. "It was a pleasure working with Chabad of North Hollywood- always pleasant and professional. They knew from the beginning that they wanted elegance and the Bertolini chair they selected has a touch of elegance like no other", says Carol Brown, Senior Product Specialist.
Chabad of North Hollywood has become a popular center for the Jewish community of all backgrounds who want to learn more about their Jewish roots. Located in North Hollywood, California, Chabad offers a wide variety of educational and spiritual opportunities, including Torah classes and lectures, Shabbaton dinners, and an array of family and social activities.
The Bertolini Sanctuary® Seating chair that was chosen for Chabad of North Hollywood is the Model Postureflex 91682. The Postureflex™ SFB (Steel Frame Back) chair 91682 gains its unique styling cues by combining traditional silhouetted backs with a center-flex spine to produce a distinctive look. This stacker chair blends the comfort of a center-flex spine and silhouetted back with the ergonomic characteristics of Bertolini's proprietary Flex-Fit™ polymer seat and a generous portion of exclusive BLUE commercial grade foam to provide uncompromising seating comfort. Under its smooth exterior lies the industry's most durable and sustainable seating structure. Bertolini Sanctuary® Seating takes the industry's strongest chair frame and adds their ZERO Maintenance Flex-Fit™ seat with BosScrew™ technology for rock solid durability. All of this produces a stunning chair that lasts longer and needs replacing less often. Last but not least, the frame finish offers an Ultra-Durable Powder-coat electrostatically applied and baked at over 400 degrees, saltwater tested to over 800 hours.
Bertolini Sanctuary® Seating is a design leader in the use of ergonomically correct chair design and its Flex fit seat design technology for churches. Their chairs are light and strong. Their expertise in the manufacture of quality stackable seating and commitment to superior customer service wins the appreciation of congregations worldwide. To find out more visit http://www.sanctuaryseating.com.