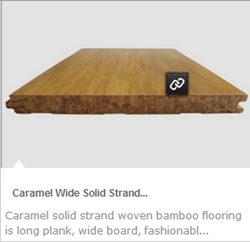 (PRWEB) August 26, 2014
Recently, BamboofloorChina.com, a renowned bamboo product manufacturer and retailer, has announced its new selection of elegant bamboo floorings for clients from all over the world. In addition, these new floorings are on sale now. All the company's customers can get a discounted price, up to 30 percent off, before September 15.
The company's senior spokesman states, "We are quite excited about the new product announcement. The fresh bamboo floorings are all made with natural materials. Moreover, all of them are available at very low prices at the moment. Please note that the current special offer will not last for decades; those who are looking for wonderful and affordable bamboo floorings should seize the great opportunity. All the discounted items are promised to be practical."
It is worth mentioning that the company's top experts are working hard to create the best bamboo products for the global customers. They are very concerned about customer satisfaction and never compromise on product quality. Also, its online workers often communicate with frequent callers; they are always ready to provide related help.
BamboofloorChina.com is a popular brand in the current market. Most of the company's cheap products are hot. Along with the new bamboo floorings, it has also unveiled a lot of other items; they come in different designs.
About BamboofloorChina.com
BamboofloorChina.com is an experienced manufacturer and retailer of elegant bamboo products. The company is offering a wide variety of useful items for its clients, including plywoods, strand woven floorings, lumbers, outdoor deckings and fences. The supplier hopes to facilitate worldwide people by providing all kinds of high quality bamboo items.
For more details about the company and its new items, customers can visit: bamboofloorchina.com.