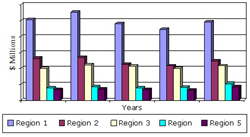 Global Market for G-Protein Coupled Receptors to Reach $114 Billion in 2018
Wellesley, Mass. (PRWEB) August 26, 2014
BCC Research (http://www.bccresearch.com) reveals in its new report, "G-Protein Coupled Receptor (GPCR) Targeting: Technologies and Global Market," the global market for G-protein coupled receptors (GPCR) or GPCR-targeting drugs fell sharply during the last three years due to expiration of blockbuster products. The market dropped from $111 billion to almost $100 billion between 2010 and 2013, with a -3.4% compound annual growth rate (CAGR). It is, however, forecast to increase its sales revenue from approximately $1 billion in 2013 to $114 billion by 2018, with a CAGR of 2.7%.
The introduction of novel pharmaceuticals is contributing to the forecasted growth of the global market for GPCR-targeting drugs, along with the fast growing sclases of drugs that were initiated in the last several years. The U.S. market is projected to witness highest growth during the next five years, but the countries of Brazil, Russia, India, China, and the rest of the world are anticipated to experience the maximum CAGR of 5.4% and 6.3% respectively.
"The recent technological advances and accumulating structural and functional literature on the physiological and pharmacological features of the GPCRs have shown that these targets have versatile utilities in the treatment of a broad spectrum of diseases across almost every therapeutic area," says BCC Research analyst Ufuk Ezer. "New findings and novel technologies in target-lead discovery and the lengthening list of druggable targets are the central motivation for the investments in the GPCR drug research and development."
The "G-Protein Coupled Receptor (GPCR) Targeting: Technologies and Global Market" elaborates on the present landscape for major segments of the GPCR drug market for the time period 2013 through 2018. The key drivers and limiting factors, as well as major threats versus opportunities for the future growth and direction of the market, are identified and addressed within this report.
Editors and reporters who wish to speak with the analyst should contact Steven Cumming at steven(dot)cumming(at)bccresearch(dot)com.
About BCC Research:
BCC Research publishes market research reports that make organizations worldwide more profitable with intelligence that drives smart business decisions. These reports cover today's major industrial and technology sectors, including emerging markets. For more than 40 years, we have helped customers identify new market opportunities with accurate and reliable data and insight, including market sizing, forecasting, industry overviews, and identification of significant trends and key competitors. We partner with analysts who are experts in specific areas of industry and technology, providing unbiased measurements and assessments of global markets. Our clients include the top companies in industries around the world, as well as universities, business schools, start-ups, consulting firms, and investment companies. BCC Research is a unit of Eli Research LLC. Visit our website at http://www.bccresearch.com. Contact us: (+1) 781-489-7301 (U.S. Eastern Time), or e-mail information(at)bccresearch(dot)com.
Data and analysis extracted from this press release must be accompanied by a statement identifying BCC Research LLC, 49-2 Walnut Park, Wellesley, MA 02481, Telephone: (+1) 781-489-7301; E-mail: editor(at)bccresearch(dot)com as the source and publisher.