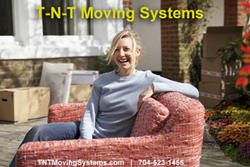 My best moving advice - Save your money and move in the fall! -- Todd Koepke, T-N-T Moving Systems
Charlotte NC (PRWEB) August 28, 2014
Is there a best time to move? Todd Koepke, co-owner of T-N-T Moving Systems of Charlotte NC believes there are significant benefits of moving during the fall months including the generous seasonal discounts he offers to his customers. "Fall is a great time of year for moving discounts. Depending on our clients' goals and situation, fall can be a great time to move, especially for renters," explains Todd Koepke.
The summer months are by far the busiest season for moving companies. According to a Census Bureau study, about 12% of Americans move each year. Housing, family, and employment related issues are the top reasons people move according to the study. Nearly 40% of all moves take place in the summer months.
The weather and school year seem to be what makes summer the peak season for moving in America. "Parents don't like to interrupt their children's school year with a big move. Also, college students are either moving in or out of apartments during the summer months," explains Tom Tulowiecki, co-owner of T-N-T Moving Systems. "Since everyone is moving in the summer, it makes finding the best place and booking a moving company a little more challenging," says Tulowiecki. "We recommend an off-season move to save money."
According to the website Life Hacker, the best month to move for renters is November. Their research indicates that rental rates go up if you rent during the summer months because there is more competition for rentals. "It makes sense that if you can wait until fall to move, you'll have a better chance at getting a place you can afford and booking a reputable moving company," says Koepke. Additionally, the summer months see an increase in unlicensed and dishonest moving companies and moving scams according to the Better Business Bureau.
More and more Americans are choosing to rent rather than buy according to a survey by the MacArthur Foundation. "With more renters in the market, there is more competition in finding a suitable home," says Tulowiecki. "Moving in the fall or winter will lessen your competition and therefore save you money." Moving during the summer gives a renter less negotiating power. Moving during fall and winter to save money on moving costs and monthly rent can add up to huge savings.
If a renter can be flexible with their move, they are likely to save money. "Weekends fill up fast, so being able to move during the week will also save you money," says Koepke . "At T-N-T, we work hard to get our clients the best price including offering discounts and a variety of services to stay within budget." For more information on T-N-T Moving Systems and their services, visit their website at http://www.tntmovingsystems.com or call them at 704-523-1455. T-N-T has been in business for 20 years in Charlotte and offer both local and long distance moving services.